New iPad 3 parts leak hints at high-resolution Sharp display, coming first week of March in San Francisco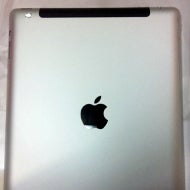 shell parts for Apple's next iPad leaked yesterday
, hinting at a new circuit board arrangement designed to eventually accommodate a souped-up processor and larger battery in a slightly thicker than the iPad 2 body.
Now these parts received a thorough examination and some close-up shots, revealing that the external design won't differ from the current iPad 2 much, no matter the internal changes.
The more interesting leak, however, is a new shot, courtesy of the Japanese from Macrotakara, which is said to expose a controller attached to the iPad 3's rumored high-resolution display.
labeled Sharp
, which coincides with the sayings that
the Japanese are one of the iPad 3 display suppliers
, and resolution is allegedly double the current iPad 2 one, at 2048x1536 pixels. We won't be calling it a Retina Display, since this resolution on the same 9.7" size translates to about 260ppi
pixel
density, rather than what we have on the last two iPhones, or the iPod touch.
Meanwhile, the March announcement has been confirmed by insiders, who claimed that the next iPad will be announced
the first week of March
during the usual for such occasions annual show at Yerba Buena Center for the Arts in San Francisco. Availability afterwards is not known yet, but it shouldn't be much longer, judging from Apple's previous releases.
source:
CultofMac
,
Macotakara
&
AllThingsD