Gorillaz's next album is created on Apple iPad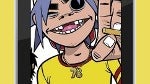 Apple must think that advertising of its products just can't get any better, because Damon Albarn – Blur's frontman and the mastermind behind the virtual and hugely-popular band Gorillaz – says that the latter's new album was already created on the iPad. So, it seems that it's time to forget about making music on our computers with professional-grade software, because here comes the
Apple iPad
.
This news is not particularly surprising, because Albarn has shown countless times before that he has a vision like few other people in modern music's history. After Blur's first album
Leisure
, he left the Shoegaze bandwagon and decided to define the Britpop scene. After he did so, he pronounced Britpop dead and turned his attention to revolutionizing the music industry in the same way as The Clash did two decades earlier, with Gorillaz being his most well-known project.
Albarn commented on the new Gorillaz album:
"I've made it on an iPad – I hope I'll be making the first record on an iPad. I fell in love with my iPad as soon as I got it, so I've made a completely different kind of record."
The record is set to be released before Christmas and it'll be interesting to see what it will sound like. But just think of the perspectives for yourself – if you are an eager amateur musician and you are struck for an hour in a traffic jam on your way to work, what's better than to create a few tunes during the pick hours?
source:
NME
via
9to5Mac