Cook: Apple Watch is a "game changer"
61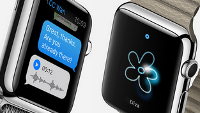 On his last day in China,
where he made a brief four-day trip
, Apple CEO Tim Cook explained how important the country is to Apple's plans. The executive also added that Apple Pay will be coming to China. Apple will have to make changes at the back end in order to deal with the different banking structure in China. Cook says that in order to have Apple Pay work in the country, meetings will have to be set up with banks, retailers and wireless carriers.
Apple's CEO also took the time to discuss the Apple Watch.
Unveiled in September
, the wearable is expected to be launched early next year. Calling the timepiece a "game changer," Cook added that consumers are going to wonder how they ever lived without it.
"We are going to wonder how we ever lived without it. That's the real test of a great product: you wonder how you live without it. And I think that's going to happen to the Apple Watch."-Tim Cook, CEO, Apple
Additionally, he characterized his meeting with Chinese premier Ma Kai as "
fascinating
" and "
impressive
". During the meeting, Cook is believed to have brought up recent attacks on Apple's iCloud. Information stored in the cloud based storage system has been hacked into, and
some believe that the Chinese government is involved
. The accusations have been denied by the Chinese.
source:
MobileBurn