Contest giving away 20 Motorola Moto 360 watches also outs its $249 retail price
13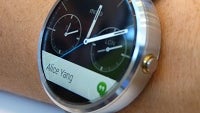 How would you like to win a Motorola Moto 360 smartwatch? Motorola is giving away watches to the 20 lucky winners of a new contest. And all you have to do to enter, is install messaging app
Yo
onto your smartphone or tablet. After installing the app, you add Motorola as one of your contacts and then send a "Yo" to the manufacturer. It can't be any easier.
There is a major caveat. While the contest started on Wednesday, it actually ends today at 3:01PM Central Time. That is 4:01PM on the East Coast. You don't have much time remaining, so you better load
Yo
on your device now. The app considers itself a "
single-tap zero character communication tool
", which means that you are expected to handle any situation by sending out the word "Yo".
About 30 minutes after the contest ends, Motorola will pick the 20 winners. The lucky 20 will be notified at around 4:00PM Central Time today! How quick is that! We should point out that to enter the contest, you must be at least 18 and a U.S. resident.
One interesting bit of news has come out of this whole thing. Motorola had to reveal the retail price of the Motorola Moto 360 because of the contest. So now we know that the the Android powered smartwatch will have a retail price of $249. The wearable will be introduced next week at IFA in Berlin.
source:
Motorola
via
PocketLint