U.S. consumers are buying 5G phones even if they don't have coverage yet
15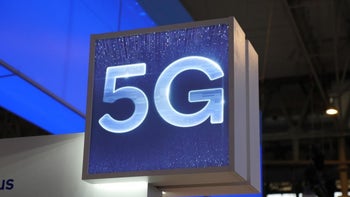 With only a limited number of U.S. cities receiving 5G signals, sales of 5G handsets in May (the latest data available) were made in more than 10 markets
according to Counterpoint Research
. During that month, only Verizon was selling a 5G compatible handset and was offering service only in Chicago and Minneapolis. Counterpoint's Research Director Tom Kang said that sales of 5G handsets have been more widespread defying predictions of a concentrated market. He points out that some cities not covered by Verizon's 5G signals back in May were in the top ten while Minneapolis was not. The top city, with a 5.3% share, was Chicago.
Counterpoint Research Analyst Maurice Klaehne notes that many consumers are buying 5G phones in anticipation of coverage in their area. He points out that 85% of consumers are aware of 5G and Counterpoint estimates that more than 5 million 5G phones will be sold in the U.S. this year with 22 million sold globally. The U.S. will lead the way in such sales, predicts the research firm, with China second. Counterpoint added that sales of 5G phones would be 60% higher in the states this year had Apple offered an iPhone with support for the next generation of wireless connectivity. Such a device won't be released by Apple until next year, and as a result "In 2020, there will be an even greater acceleration in 5G smartphone sales due to 5G iPhones becoming available," says the research company.
5 million 5G phones are expected to be rung up in the states during 2019

Currently, 5G phones available in the U.S. include the
LG V50
and the
Samsung Galaxy S10 5G
. Verizon's
Motorola Moto Z3
and
Moto Z4
can both access the carrier's 5G network with the use of the 5G Moto Mod attachment. Both phones and the Moto Mod are equipped with the Qualcomm Snapdragon X50 modem chip, compatible only with mmWave 5G networks. Verizon plans on exclusively using this high-band spectrum which has the disadvantage of traveling shorter distances than low-band spectrum; it also does not penetrate buildings as well as airwaves in the lower frequency range. On the other hand, last week T-Mobile and Qualcomm announced
the first successful 5G data call conducted over the carrier's low-frequency 600MHz spectrum
. For the test, a Snapdragon X55 5G mobile chip was employed; unlike the X50, the newer component supports both mmWave and sub-6GHz spectrum.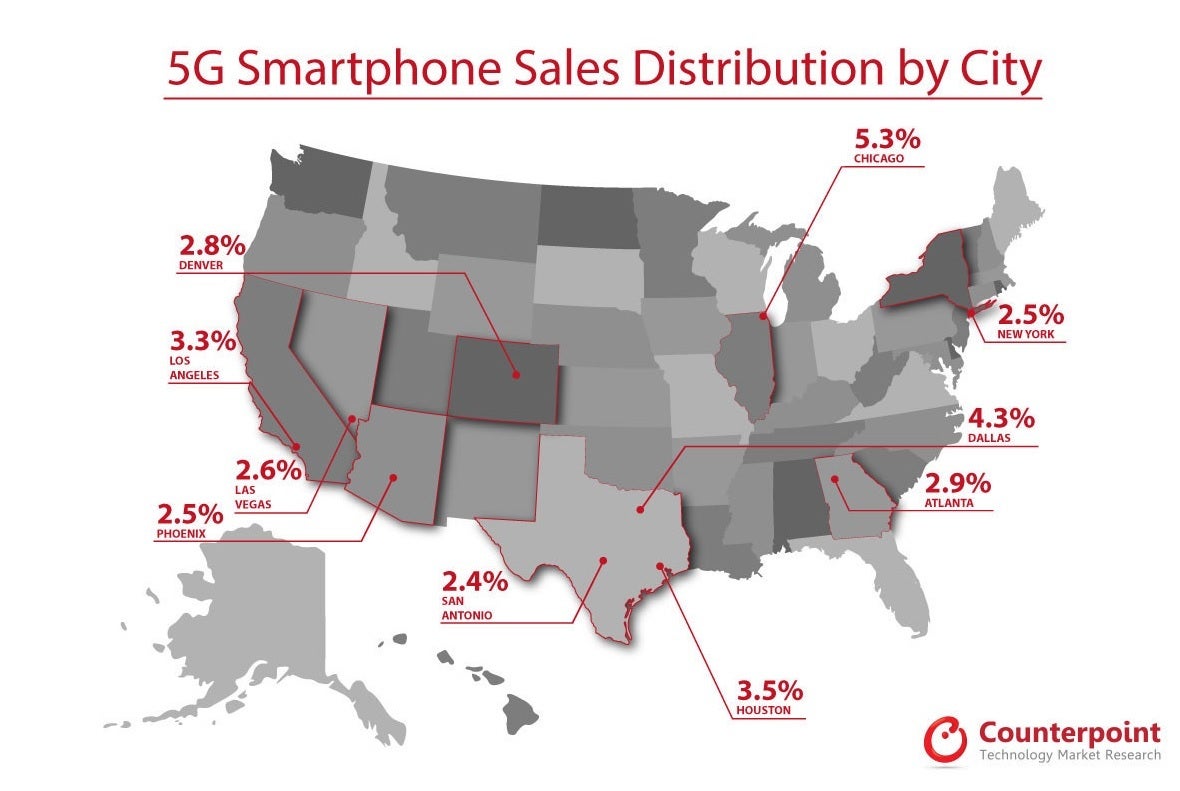 Top ten markets for 5G phone sales in the U.S. as of May
T-Mobile believes that if it can complete its merger with Sprint, it will be able to deploy the latter's mid-band 2.5GHz airwaves in conjunction with its own 600MHz spectrum and mmWave airwaves. This, T-Mobile says, will allow it to build out the first nationwide 5G network in the states.
As part of the agreement it made to win FCC approval
of its proposed merger with Sprint, T-Mobile promised that three years after the deal closes it will cover 97% of the U.S. (85% of rural areas) with low-band 5G coverage and have mid-band coverage available over 75% of the U.S. population. It also promised to freeze prices for three years following the closing of the deal.
"The top 10 cities make up just one-third of all 5G smartphone sales in May. This indicates how widespread initial 5G smartphone sales have been, despite early predictions that sales will concentrate in cities with 5G service. Consumers are buying 5G capable devices across the country despite not having a 5G network available in most cases. Minneapolis, one of the two launch cities is not even in the top 10 list. Instead, we see cities like Dallas, Houston, and Los Angeles in the top five cities list for 5G smartphone sales."-Tom Kang, research director, Counterpoint Research
5G download data speeds will be ten times faster than those experienced with 4G LTE. This will allow users to download a full-length movie on their phone in seconds rather than minutes. Just like 4G LTE helped create the rideshare industry with two billion-dollar companies (Uber and Lyft), 5G service, once nationwide, will lead to the creation of new businesses and services.