Buttons on smartphones could soon be a thing of the past
11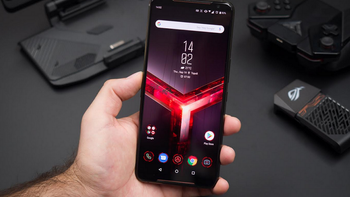 So we get it, buttons are on the way out as far as smartphones are concerned. And today,
Reuters reports
about a company called Sentons that is trying to replace all buttons on all handsets. The start-up company's founder is an engineer named Jess Lee, who sold his previous firm, InVisage Technologies, to Apple. Sentons new system uses ultrasound to replace button touches and swipes on a smartphone's metal edge. The technology relies on a custom chip that sends out ultrasonic sound waves. The component also includes a processor and uses algorithms to interpret a number of different gestures. The technology is already used on the
Asus ROG Phone II
Tencent Edition sold only in China. The gaming phone can be held in landscape and as users tap the screen with their thumbs to play a game, their index fingers press virtual buttons on the top edge of the device called "Air Triggers." Besides Asus, Sentons says that it is working with two other smartphone manufacturers that the company wouldn't name.
"Touch screens are great, but (phone makers) hadn't been able to figure out how to add interactivity to the sides. With the thinner and thinner form factors, perhaps even all glass or with funky metallic edges that are really, really thin, there's no space for buttons."-Jess Lee, founder, Sentons
Sentons is also working on a virtual jogwheel that will make it easier for those with large screened phones to scroll through apps. It also is prepping a virtual shutter button for handsets that will allow a phone's camera to focus with a light tap of the virtual shutter. Lee sees a need for Sentons' technology on smart devices with limited screen sizes; for example, he says that it could be employed on the frames of smart glasses and on the bands of smartwatches. He also can see car makers putting his company's sensors on automobile steering wheels.
The company currently has 50 employees and has raised $37.7 million from venture capital firms.