Commercial shows off Samsung's Windows powered ATIV devices
6
A new commercial from Samsung shows off the OEM's latest lineup of Windows Phone products. The Korean manufacturer has the
Samsung ATIV S
smartphone, the
Samsung ATIV Tab
tablet and the Samsung ATIV Smart PC Pro tablet. Samsung doesn't seem to be included when the discussion turns to Windows Phone 8.
Microsoft recently produced two new ads for the platform
, including one that stars CEO Steve Ballmer. In both spots, only two phones were displayed, the
Nokia Lumia 920
and the
HTC 8X
.
Although Samsung remains focused on Android, it doesn't mean that its ATIV devices aren't competitive. The Samsung ATIV S has a 4.8 inch Super AMOLED screen with resolution of 720 x 1280 which results in a pixel density of 306ppi. The dual-core 1.5GHz Qualcomm Snapdragon S4 MSM8960 is under the hood with 1GB of RAM on board. 16GB of native storage can be tripled thanks to the 32GB capacity microSD slot. The rear-facing camera is 8MP and captures video in 1080p while there is a 1.9MP front-facing shooter. A 2300mAh battery keeps the lights on and Windows Phone 8 is installed.
The Samsung ATIV Tab has a 10.1 inch LCD screen with resolution of 1366 X 768 offering a pixel density of 155ppi. Compare that to the mouth watering resolution of 2560 x 1600 on the Samsung built Google Nexus 10 and you can surely see where the Korean manufacturer will be buttering its bread for now. Under the hood is a dual-core 1.5GHz Qualcomm Snapdragon S4 Plus APQ8060A with the Adreno 225 GPU. On board is 2GB of RAM with 32GB of native storage. A 4MP camera on back captures video in 720p and there is a 1.9MP front-facing shooter. Samsung has an 8200mAh battery keeping the lights on and Windows 8 RT is installed.
The Samsung ATIV Smart PC Pro features a 11.6 inch LCD tablet with resolution of 1920 x 1080 and a 190ppi pixel density. A Intel processor runs the show and there is 4GB of RAM, just like your new desktop PC, on board. There is 256GB of internal storage and 8.5 hours of battery life. Back and front facing cameras come in at 5MP and 2MNP respectively and Windows 8 is installed.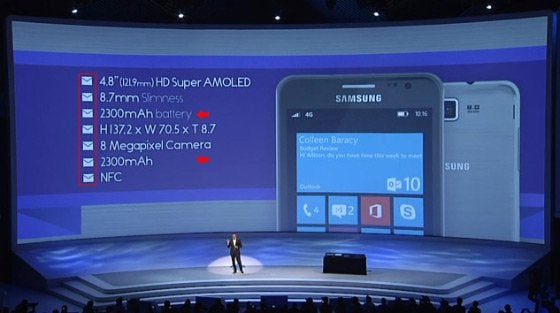 Note the duplicate bullet points for the battery on the Samsung ATIV S
Even the commercial below shows that Samsung is either holding back with Windows or just not
putting its best men on the job
. Consider those
hilarious spots for the Samsung Galaxy S III
that make fun of those waiting in line for the
Apple iPhone 5
. Even the
three new ads for the flagship Android handset
had some clever, subtle humor such as the wife who made a special video for her husband's business trip and warns him not to watch it on the plane.
The ad for the Samsung ATIV products seems like a poorly acted drama centering on whether or not some ATIV packing employees out of the office can fix a presentation in time before Mr. Big arrives at the meeting. Unlike Sammy's Galaxy S III ads, this does not feel fresh and new and in fact, has been done countless times before.
,
It's as though Samsung is still trying to see if Windows Phone 8 will survive before it commits the same resources that it has to Android. Consider the gaffe made by Samsung at IFA 2012 in Berlin when a slide for the Samsung ATIV S showed duplicate bullet points for the battery. A mistake like that would never pass muster if it was a slide for the
Samsung Galaxy S III
.
source:
YouTube
via
WPCentral