Samsung does it again, making fun of those waiting on line for the Apple iPhone 5
99+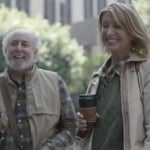 Remember those
hilarious ads Samsung ran last year
for the
Samsung Galaxy S II
? Those spots made fun of the incremental update on the
Apple iPhone 4S
, and those who waited on line for the device. The commercials
coined a new putdown line
, "Dude, you're a barista". The new ad shows long lines of
Apple iPhone 5
buyers waiting in line at various cities and the chatter is about some of the new features. "The headphone jack is going to be on the bottom," says one of those on the line, with great significance. A woman waiting on the line mentions how the connector is all digital, but admits seconds later that
she doesn't know what this means
.
Samsung Galaxy S III
. This year, the person with the Samsung handset is actually on line, holding a spot for someone. And just who is he saving a place on the iPhone line for? Why, it's his older parents of course, as Samsung takes a shot at the characterization of the Apple iPhone as the handset for older people who aren't 'hip'. And while some on the line are talking,
two Samsung Galaxy S III users share a play list using S Beam
which quickly gets the attention of the Apple iPhone users.
The most telling part of the 90 second spot is when someone starts rattling off the new features of the Apple iPhone 5. "This one's got 4G," offers a Bill Gates look alike."Yeah, we've had that for a while," responds a Samsung Galaxy S III owner. "This one's got a big screen," responds the iPhone user. "This one's got a bigger screen," says the guy with the Galaxy S III who then launches into a litany of some of the features on Samsung's flagship smartphone.
Kudos to Samsung for continuing this series. No matter which phone you prefer, this is 90 seconds of pure fun and amusement and even Apple iPhone users should be able to laugh at themselves after viewing the ad. The only complaint we have is that Samsung didn't bring back the barista.
Thanks Abhi!
source:
YouTube