Combine your shopping list and in-store navigation with Captain for your Apple Watch
9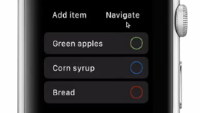 Some people hate making a shopping list before heading to market. Inevitably, the list gets lost, or you forget some items that are clearly written on it. And even though you might think that you've memorized the layout of the supermarket you shop at, sometimes you just can't remember where the vegetarian beans are stacked.
But there is a solution in the form of an app for the Apple Watch. Powered by Artificial Intelligence (which sometimes is the only intelligence you'll find at the supermarket), the app will remember which stores you visit to buy certain goods, and develop a list whenever you enter a specific store. If you head to Publix or Piggly Wiggly, the first screen will show Groceries on the top of the list. If you go into Home Depot, Appliances will show on top. This is learned by the app using AI.
Again, using AI over time, the app learns the location of individual items in the store. Pressing navigate will show you the fastest way to an item, and if your spouse or significant other shares the app, he/she can remotely add something to your list. If you skip something from your list that you usually buy, Captain will flash a reminder on your Apple Watch screen.
Captain is currently in beta and the developers
hope to be ready for the April 24th launch of the timepiece
. It will be a paid app although pricing has yet to be determined. However, if you click on the sourcelink (and are sent to the Captain website), you can sign up to receive 12 free months of the app.
source:
Captain
via
VentureBeat
,
SlashGear