Coffee, tea or Galaxy? American Airlines selects Samsung GALAXY Note for their 17,000 flight attendants
9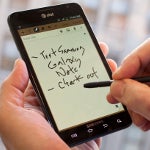 "This is a huge step towards a new, modern American Airlines, as our tablet program is the first of its kind in the airline industry, where our flight attendants will have the most up-to-date customer information in the palms of their hands, allowing them to better serve our customers from boarding to deplaning. By giving a device to all of our active flight attendants we are better enabling our people to deliver an exceptional customer experience."-Lauri Curtis, American Airlines, Vice President – Flight Service
American Airlines has selected the
Samsung GALAXY Note
to be the device used in a program to equip each of the airline's 17,000 flight attendants with a device that
allows them to keep information about each passenger
on a flight just a fingertip away. The Samsung GALAXY Note given to each flight attendant will show each passenger by name, any loyalty plan they are a member of in both a seat map and customer-list view.
Meal and beverage preferences will be available for passengers seated in a premium cabin, and
those requiring special assistance will be noted on the screen
as will those passengers who are considered "high-value" customers of the airline. Pending approval from the FAA, flight attendants will use their tablet to answer passenger's inquiries about connecting flights, such as gate numbers, flight delays and weather information. The flight attendants also will be able to complete in-flight transactions with passengers using a credit card to order food. Eventually, the flight attendant manual will be available on the tablet, eliminating the need for them to carry paper manuals on a flight.
American Airlines selected the Samsung GALAXY Note after months of testing other tablets. Last month, the Korean based manufacturer introduced the sequel to the device, the
Samsung GALAXY Note II
, expected to launch some time this quarter. Earlier this month, the
FAA ruled that American Airlines pilots can use a special app installed on an
Apple iPad
to replace paper flight charts and navigational maps.
The large amount of weight being replaced by the tablet will help American save $1.2 million a year in jet fuel, according to the airline.
source: Samsung