Clash of Clans' developer earns almost $900 million in revenue in 2013
12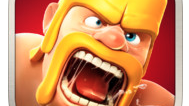 Supercell, the developer behind the wildly-popular Clash of Clans game, revealed that it has earned as much as $892 million in revenue last year. This is quite an impressive annual financial result if you take into consideration that Supercell's revenue was "merely" $101 million back in 2012.
The Finnish company's EBITDA (earnings before interest, taxes, depreciation, and amortization) for 2013 have skyrocketed to $464 million – nine times more in comparison with 2012's EBITDA of $51 million. It is important to say that the game studio has released only two games as of today - Clash of Clans and Hay Day.
Supercell also revealed that it is about to officially launch Boom Beach, its third mobile game, sometime in March. The game is currently in its soft-testing period in some regions. Boom Beach's gameplay is similar to Clash of Clans as players will have to invade various fortified beaches and assault their defenses.
Download:
source:
Recode