Chromecast torn down, simple does it
2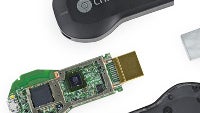 The
Chromecast
is a wonderful little media player/streamer and at $35 it's basically a no-brainer. What is it made of, though? If that question has been bugging you now you can have the answer.
The Chromecast is nothing all that complicated on the inside - it consists of a single motherboard and a huge aluminum heat sink. Hey, at least Google did warn that it could get hot at times and it's no surprise they've included such a buffer.
iFixit usually tries to estimate how easy or hard a gadget is to repair, but in this case there is
only a single motherboard
. Nothing to repair!
In terms of specifications, you probably already know that the streamer is capable of beaming 1080p videos from the cloud and supports single-channel 2.4GHz Wi-Fi b/g/n. The Chromecast works across all platforms that come to mind - from Android and iPhone to notebook computers running Mac, Windows and Chrome OS.