Chinese authorities take down the websites hosting the WireLurker iOS malware, arrests three suspects
2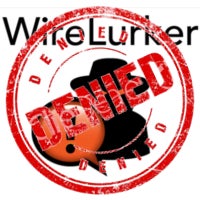 Just two weeks ago, we heard about a malicious software threatening iOS devices, including non-jailbroken ones, brewing in China, called
WireLurker
. Now, most iOS users were safe from it, mind you, as its only way onto an iDevice was via USB – the malware was attached to apps, which were available for a 3rd party app store in China; in order for one to purchase one such app, they would have to do that via a Mac OS PC, then transfer the app onto their iPhone or iPad.
Still, a malware scare is a malware scare and has to be taken seriously, no matter how unprobable it is to actually get it on one's device.
Well, it seems that China's government took it seriously enough - the Beijing Municipal Bureau of Public Security has announced that three suspects have been arrested and are charged with conspiring to write program code for illegal profits. Their websites have been taken down and, together with the fact that Apple revoked the certificates, which the malware uses to penetrate its systems, WireLurker should slowly, but surely, become a thing of the past.
But will this be the end of iOS viruses? We suppose not. The system is so widely adopted that it's a hanging fruit for any hacker. There's already
another malware
in the mix, and common sense dictates that the attackers will not be giving up soon, which means that Apple needs to stay on top of its game and constantly place obstacles before them.
source:
Weibo
(
translated
) via
iMore