Check out the smooth slow-motion video playback found on Sharp's newest smartphones
37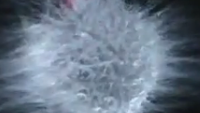 Sharp has three handsets that will trick your phone into thinking that it has captured video at 2100fps. When you record at that speed and then play it back at a slower rate, the result is a slow motion effect. The smoothest looking slow motion comes at a playback speed of 60fps or 120fps. But at those speeds you can't slow the original footage down as much as you would like. But Sharp has developed a solution that produces the optimal number of frames for smooth slow-mo.
By adding extra copies of some of the frames and using some additional post-processing magic, Sharp is able to allow owners of just announced models like the Sharp Aquos Zeta, Sharp Aquos Xx and Sharp Aquos Serie, to wow and amaze their friends with slow motion like you see in the video at the bottom of this story.
The three handsets record 210fps at a resolution of 854 x 480, or 120fps at 1920 x 1080. By copying 10 frames for each one captured by the camera, Sharp can produce video at 2100fps (in FWVGA) or at 1200fps (in FHD). All three models will soon be available from Japanese carriers like DoCoMo, SofBank and KDDI.
At a press conference in Tokyo yesterday, Sharp unveiled the three phones along with a lightweight 7-inch Android powered slate called the Sharp Aquos Pad SH-05G. Weighing in at only 213 grams, the slate offers an IGZO display with a resolution of 1200 x 1920 and a 3900mAh battery. With an 8MP camera that faces outward, the 8mm thick tablet will be available from DoCoMo in July.
Despite holding the press conference and introducing the three new phones, there is talk that Sharp is looking to exit the smartphone business and would do so if it could find a buyer.
source:
PCWorld
via
AndroidAuthority