Candy Crush Soda Saga, the sequel to Candy Crush Saga, got soft-launched on Android
13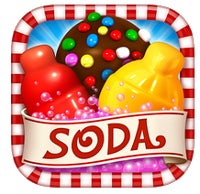 King, the developer of the wildly-popular Candy Crush Saga that also tried to trademark
"candy"
and
"saga"
, just released a sequel to its highly successful game – meet Candy Crush Soda Saga. The title just got soft-launched in Canada, Sweden, Spain, and the Netherlands. In accordance with the "never change a winning team" principle, Kings's new title does not deviate from the philosophy of its predecessor, as it still requires you to match colorful candies across 75 levels.
As its name suggests, Candy Crush Soda Saga is set in a
"mouth-watering",
"soda-soaked environment"
. Apparently, the fizzy drink in question affects the gameplay, as it causes candies to float instead of fall down like they did in Candy Crush Saga. This is one of the more obvious changes and frankly said, it's highly likely that only hardcore Candy Crush Saga devotees will be able to spot the remainder of minor differences between King's duo of sweetish games.
If you are wondering when you'd be able to play Candy Crush Soda Saga on your Android device, then the second half of 2014 is the time period you are looking for. In case you are sporting an iOS device, then don't worry, as King's new game will probably grace Apple's platform shortly after it hits Google Play.
So, a new Candy Crush game, yay or nay? Drop a line below and share your thoughts!