"Canada's Smartest Person" gets a job at BlackBerry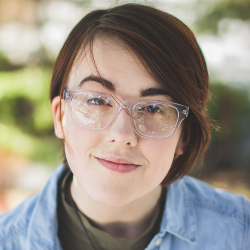 BlackBerry might not be at the top of the smartphone industry any more, but the company apparently still attracts top talent. BlackBerry announced today that it has hired
Canada's Smartest Person
, Katy Warren, to be employed as a Hardware Engineering co-op student. She will be toiling for the company's IoT division, working on the BlackBerry Radar Solution. The latter is a secure device that provides trucking and transportation users with secure, real time information about their "trailer, chassis and container fleets."
To be named Canada's Smartest Person, Warren had to win the television competition with the same name by showing a well-rounded intelligence. She had applied for the position at BlackBerry online, and was excited to get the opportunity to work for the firm she calls "one of the world's best technology companies."
"BlackBerry is one of the world's best technology companies and I've wanted to work here for a long time. I applied online and was very excited to get an interview, because I really felt like working at BlackBerry was a longshot for me...I think my biggest surprise has been how much goes on at BlackBerry outside of just making smartphones. It's a much more diverse company than a lot of people know about, especially with the focus on security and software development, and that's something I really love about BlackBerry."-Katy Warren, Canada's Smartest Person
The BlackBerry Radar Solution can be installed in just 10-minutes without getting hooked up to a truck's power system. With a battery that needs to be replaced after three-years, companies can track their trailers using the map-based interface to make sure valuable cargo gets to where it has to go. These are the kind of products and services that BlackBerry is relying on to drive the business even though it is still, at least for now,
branding smartphones with the BlackBerry name
.
source:
BlackBerry