BlackBerry to launch new keyboard smartphone soon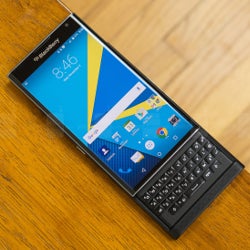 Despite lower than expected sales of its
DTEK50
smartphone, BlackBerry will continue to launch smartphones. Obviously, since the Canadian company
has decided to stop producing them
, they will be made by handset makers willing to pay for the license.
The latest BlackBerry smartphone launched on the market, the DTEK60 is the result of the collaboration between the Canadian company and Alcatel, just like the previous model.
But the
DTEK60
won't be the last BlackBerry smartphone to be released on the market. During an interview for
Bloomberg
, the CEO John Chen confirmed that his company has another product in the pipeline.
It's a keyboard phone that BlackBerry promised to bring to its fans long before the DTEK60 was officially unveiled: "
We have one keyboard phone I promised people. It's coming
," said Chen during the interview.
Although he did not say when exactly the phone will be announced, he did confirmed that it's coming "soon," so we shouldn't rule out a 2016 release for this
BlackBerry keyboard
phone.
John Chen also confirmed that his company is already in talks with two companies for the launch of BlackBerry smartphones, but he did not want to say their names. However, according to him, these companies come from China and India, and for the time being they come neck to neck.
That being said, it looks like BlackBerry fans are in for some nice surprises (hopefully) in the next couple of months, even though the Canadian company won't be manufacturing any smartphones for the moment.