Can the LG G4 sit in 4-inches of water for 2 hours and survive?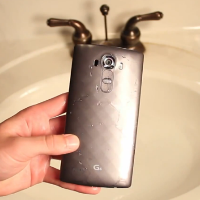 The
LG G4
does not have an IP certification for protection against dust and water. And as far as we know, the device has not been treated with nano-coatings like some of Motorola's handsets are. Still, the phone was placed in a sink filled with 4-inches of water to see if LG's latest and greatest handset could survive a dunking.
Based on the accompanying video (which we have embedded below for your pleasure), the LG G4 managed to stay submerged for over 2 hours without any damage to the phone. However, since the handset is not water resistant, water managed to seep through the back cover. The battery was quickly removed and the unit placed in a container of Uncle Ben's to absorb the liquid.
Before you start playing footloose and carefree with your LG G4 during rainstorms, or in the bathroom, remember that the phone is not water resistant. If you get your LG G4 wet, it will probably stop working unless you take quick action. Remove the battery immediately and submerge the phone in rice for at least 24 hours.
Nearly three years ago, we told you what to do if your handset gets wet.
These are still good rules to follow
in case your worst nightmare comes true.
source:
iTechWorld11