Can the HTC One X survive three drops?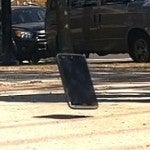 The guys at HTCPedia had to feel it. They were
conducting a drop test with the new HTC One X
and every time the handset hit the ground, it made that distinctive sound that brings fear and a cold sweat to all smartphone owners. That is the sound of a new high-end smartphone slowly getting destroyed by concrete.
The first drop was from waist high to simulate a fall from your pocket. Seeing the phone drop in super-slow
motion
is certainly something to see as the handset takes crazy bounces before landing on its face. The HTC One X did well in surviving this first drop and got away with just a few dings on the side.
The next fall was from shoulder height
. While the HTCPedia crew didn't explain what this was supposed to simulate, we could say that it would be like being on a call and having the handset pinned up between your ear and shoulder before it loses control and heads south. After that drop, there was just some cosmetic damage and the screen remained intact. At this point, chalk one up for the Taiwan based manufacturer's build quality. The
final drop was face down
and the screen certainly took the brunt of this hit. Despite the shattered screen, the unit still worked although the display could not be read easily. Internally, it seemed that the device was holding up as The HTC One X was still responsive after the three drops. Oh, if you're wondering why the battery didn't pop out on impact, that's because the HTC One X does not offer a removable cell.
No one likes to see their smartphone hit the deck, especially with no protection. In the years to come, we would expect to see stronger cases offering more protection. OEMs will find stronger materials that will allow smartphones to come away blemish free from even shoulder height drops and higher. In the meantime, all you can do is grip your phone a little bit tighter, use very protective cases and hope that luck is on your side.
source:
HTCPedia
via
Phandroid