CNN to air "Steve Jobs: The Man in the Machine" documentary this Sunday
18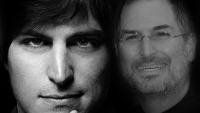 This Sunday at 9pm EST, CNN will air a documentary about the late Apple co-founder Steve Jobs. Titled, "Steve Jobs: The Man in the Machine,"
the film had a limited run in movie theaters
,
although it actually debuted at the SXSW festival in Austin, Texas. That is where Apple executive Eddy Cue saw it and made the comment that it was "An inaccurate and mean-spirited view of my friend. It's not a reflection of the Steve I knew."
Since it is a documentary, actual video clips are used, and we get to see the real Steve Jobs instead of an actor portraying him. A couple of recent movies about Jobs and Apple flopped at the box office, including the Universal release "Steve Jobs," which starred Michael Fassbender in the title role.
In one dramatic clip from the documentary, former Apple employee Bob Belleville explains that working for Steve Jobs at Apple cost him his wife and kids. We've embedded that scene along with the trailer for "Steve Jobs: The Man in the Machine" in the video slideshow below.
Sunday's airing will be the first major television broadcast of the documentary.
source:
CNN