Nokia and Microsoft heads rumored to meet in Las Vegas to discuss the smartphone unit buyout
10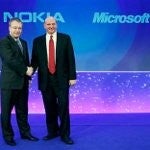 The ever-restless Russian blogger Eldar Murtazin, who has been
often at odds with Nokia
, ever since he leaked and commented some not very flattering things about a non-final Nokia N8, now has another bombshell claim.
He tweeted recently that Steve Ballmer and Windows Phone's Andy Lees will be meeting in Las Vegas (we guess around the CES brouhaha, but it is not specified) with Nokia's CEO Stephen Elop and Kai Oistamo, to discuss the acquisition of Nokia's smartphone unit by Microsoft. The following tweets say that after the deal is closed some time in 2012, Stephen Elop will swoop back to MS, and Risto Siilasmaa will be named chairman of the board - a rumor we already heard yesterday.
Moreover, it is expected to grow bigger with the introduction of the Nokia Windows Phones 2012 crop. Microsoft and Nokia were said yesterday to introduce a $200 million marketing campaign in the US, the biggest effort Nokia has ever undertaken, and for cooperating on this kind of money you have to be pretty confident in your partner, or even consider it a future part of your company, if the cards play as Murtazin leaked.