CEO Chen says BlackBerry will introduce three high-end models for "keyboard aficionados"
66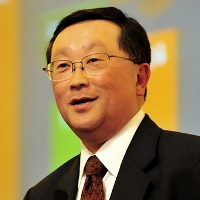 Three new high-end BlackBerry models are on the way, according to the Canadian manufacturer's CEO, John Chen. The executive also reveled that these models are going to be designed for "
keyboard aficionados
," and will be introduced over the next 18 months. One of the three models could be the
BlackBerry Q20
, which
was revealed last month at MWC
.
The BlackBerry Q20 is expected to be launched in the second half of the year, and will be equipped with a 3.5 inch screen. That would be the largest screen ever employed on a QWERTY-equipped 'Berry. The handset will also come with a larger battery and will bring back some "old-school" features like a touchpad and function keys.
Another possible model is the device currently
code named the BlackBerry Windermere
. This is
an oddly shaped phone with a wide-body and a strange looking QWERTY keyboard
. There is speculation that the keyboard will work by not only pressing on the keys like a regular physical QWERTY, but will also be touch-sensitive. BlackBerry is also believed to be working on a model that will be powered by a 64-bit octa-core processor. Originally thought to be ready in 2015, a later report had BlackBerry pushing up development of the phone in an attempt to
rush it out by this September
.
"It is our plan to return to profitability at some point in fiscal 2016. We need to generate cash and make money on a consistent basis, and it's got to come from our big installed base of enterprise and if we can do that, then we can branch out to do a lot of other stuff."
-John Chen, CEO, BlackBerry
The CEO also brought up the possibility of offering a version of BBM for the desktop. "We are certainly going to take a very serious look at putting BBM on the desktop," said Chen. Last month, the executive said that
BBM could go "beyond handsets and the phone."
Once a BlackBerry exclusive, BBM is now available for iOS and Android with a
version for Windows Phone expected soon
.
source:
Reuters