Built-in SIM card standard coming, and US carriers are onboard
7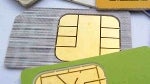 A new carrier-independent SIM card type is in the works by the GSM Association, one that will be soldered onto the phone's internals, and will be programmable remotely. Many carriers, including AT&T, T-Mobile and Verizon are onboard, drafting the standard that is supposed to be researched for viability by January.
Devices with built-in SIM cards will then come in 2012, but removable SIMs can still be present, for those who need to use more carriers simultaneously. This all means that you can activate your phone for different carriers without even entering a store for a SIM card, and also that other gadgets such as cameras, music players, even cars, can be fitted with the chip.
We know that
Apple recently started talks
with the wireless security company Gemalto, whose programmable over the air SIM card solutions are used in
big pilot projects for mobile payments in Europe
. The chip has both read-only and regular flash, which could allow activating an iPhone via an App Store download for any given network, presumably to simplify life for European users. It's certainly not going to simplify life for jailbreakers, but we have faith in human ingenuity.
source:
Electronista