British Vogue talks Apple Watch with Apple designers Jony Ive and Marc Newson
19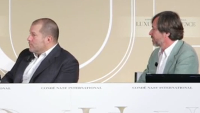 We've told you a number of times that Apple considers the Apple Watch to be part jewelry, part tech icon. As a result, the company has been looking to promote the timepiece in magazines where Apple products had never appeared before. Recently, British Vogue editor Suzy Menkes sat down to talk Apple Watch with Apple design gurus Jony Ives and Marc Newson.
The panel was videod on Wednesday at the first inaugural Conde Nast International Luxury Conference. Some of the questions asked by Menkes revolved around the idea that Apple is bringing to the luxury market some concepts that are foreign to it. For example, you wouldn't normally hear a wealthy patron of the arts complain to her monied friends that Fendi is taking too much time sending out a promised update for its latest handbag.
Ive said that he thinks that Apple Watch will keep its looks over time. He says that software updates will be necessary since digital devices are different than mechanical ones. Apple's design chief also repeated something that he has said before. When designing the Apple iPhone, Ive and the rest of the team were motivated by the fact that they couldn't bear to use the smartphones that were available at the time. With the Apple Watch, the motivation was different since the design team loved the watches that they owned. According to Ive, the design team saw the wrist as being "
a fabulous place for technology
" and was inspired to create the watch.
The Apple Watch launched yesterday and there are five stores on the entire planet that are
allowing you to come in and purchase one
. Otherwise, you are limited to ordering online and waiting to as long as July (depending on the model ) for your timepiece to arrive.
source:
BritishVogue
via
AppleInsider
Recommended Stories