Both EVO 4G and Droid Incredible having problems with their screen
This article contains unofficial information.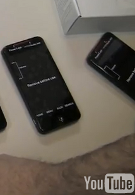 What is happening to QC at HTC? One minute it is glass separation issues with the EVO 4G and the next thing you know, the nation's first 4G phone, along with its cousin-the Droid Incredible-will not register touches smoothly on the screen when the phone is not grounded. There are videos from owners of both models showing the problem that occurs when the phone is not being held (holding the phone will ground the unit). Note in the EVO 4G video, when the user is holding the phone and drawing the line, it is smooth and operates exactly as you would expect. When the phone is placed on a couch and is not being held, the lines are choppy and are not complete. The second video pits the Motorola DROID and the HTC Droid Eris vs. 3 HTC Droid Incredible models placed on styrofoam. Anyone out there experience this problem with their EVO 4G or Droid Incredible? Simply holding the unit will get it to work, but you might want to head back to the retail outlet where you purchased the device and exchange it.
HTC EVO 4G Specifications
|
Review
HTC Droid Incredible Specifications
|
Review
source:
YouTube (EVO 4G),
(Droid Incredible)
,
Xda-developers
,
HTCForums