BlueAnt Ribbon hands-on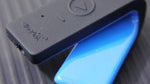 Bluetooth headsets have changed the way we interact with our devices, but for some people, the thought of having something spewing out invisible radio waves near our heads and ears might not sit too well with them. Arguably one of the most versatile Bluetooth accessories we've had the chance to check out in recent memory, the
BlueAnt Ribbon
aims to be mandatory Bluetooth accessory for everyone. Why's that you ask? Well, it's a simple and pocket friendly gizmo that
enables wireless streaming to a broad range of devices
.
At its core, the BlueAnt Ribbon is a stereo Bluetooth streamer that has only 2 ports on it – a microUSB port that's discretely hidden away behind a flap on one end, and a 3.5mm headset jack that allows us to connect it to any audio system on the other. Rather than finding this Bluetooth accessory being perched somewhere near our head, the Ribbon can be worn anywhere – and for us, that means far away from any important body parts. With its twist/go design and ribbon-like appearance, we like how it can be
securely fastened
onto the sleeve of our t-shirt, the outer edge of our pants pocket, or even around our belt.
And the best part about it, we can use any of our own wired headphones – without too much compromise with its audio quality! Essentially, with
AptX streaming
in tow, it ensures that we get "
wired
" quality Bluetooth music. Of course, our ears notice how it's able to preserve the quality. On the Ribbon itself, there are a total of 3 buttons that give us control of our devices, such as accessing voice control services, adjusting volume, picking up/rejecting calls, and power on/off. Showing off its versatility, we truly appreciate how we can also get wireless streaming onto audo specific things like dedicated living room stereo systems and car audio receivers. Quite simply folks, there's plenty to like about this small bundle of joy, especially when it's priced reasonably at $69!
More stereo Bluetooth headphones to check out