Jaybird Bluebuds X Review
10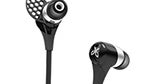 Introduction:
Harder, faster, and stronger are some of the words that come to mind as you're sweating it out in the gym, trying to keep your New Year's resolution going on. In order to keep the motivation and drive going, there has to be a pair of Bluetooth enabled stereo headphones to keep the music popping – all the while staying firmly in place as you're constantly in motion burning those calories. Well, if you're a fitness fanatic, you'll undoubtedly find the
Jaybird BlueBuds X
as the perfect companion for your workout goals, since it features a very different design than most other sporty style Bluetooth headphones out there in the market.
Design:
Wow, can these pair of Bluetooth headphones be any different from the competition? Honestly speaking, the design of the Jaybird BlueBuds X is undeniably its main attraction, as it's nothing more than a rubbery wire connecting its two ear buds together. Furthermore, it employs a
cross-over dual fit design
where it's worn behind the head/neck, which depends on whether you prefer the ear buds being wrapped around the top of the ear or the bottom. No doubt, they're super light in weight and compact enough to travel discreetly in your pocket. In terms of construction and choice of materials, we really can't complain about it, especially when the sweat-resistant nano coating of the wire does wonders in fending off perspiration.
Taking a look at both ear buds, they're actually the same, but it seems as though the right one is what houses most of the components – even its battery because the
microUSB port
is accessible behind the plastic lid. Likewise, the tri-button controls are found dangling below the right ear bud as well, which are enabled for quick volume up, volume down, and pause/play/pick up call/end call functions when they're pressed quickly. With long pressing, though, you can obtain additional function like fast forwarding a track, reversing it, and turning on/off the unit.
At first glance, the ear buds might appear menacing with their
razor shaped patented secure fit ear cushions
. However, they actually help to keep the bond in the ear intact, seeing that they conform to accommodate the crevices of the outer ear. Combined with the rubbery ear bud tips, which come in different sizes, we're amazed how it's able to stay snugly in place within the ear. Even with some intense and abrupt movements, they're able to maintain their position in the ear – with no issues of ever becoming loose, unless they're pulled out of course. At the same time, the tight fit doesn't ever become irritating after prolonged usage, plus, it eliminates any white noise to interfere with the audio quality.
Recommended Stories