Motorola S11-FLEX HD Review
5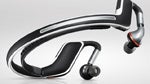 Introduction:
It's one thing to be sitting idly in the comforts of your home listening to music with a wireless pair of headphones, but it's totally another thing if you're sweating it out doing something more active. For those looking to tackle the issue of listening to some tunes while doing some sort of physical activity, the
Motorola S11-FLEX HD
is aiming to be the perfect companion for all your fitness needs. Its sweat-proof aspect is undeniably something neat that we don't see too often amongst stereo Bluetooth headsets in general, but more importantly, it boasts all of the contemporary features we commonly expect to hopefully make it a balanced offering.
Design:
Without question people, the Motorola S11-FLEX HD is an interesting one in the world of Bluetooth headphones. Instead of treading the conventional route, its
wrap-around design
encompasses the entire back portion of our head – with the actual earbuds looping over the ears and finally resting in the crevices. Constructed entirely out of plastic, with some rubbery surfaces plastered along its body, it's nice to know that it's flexible enough to bend to an extent. Worth pointing out too, it's armed with a protective coating, hydrophobic moisture-repellent mesh, and silicone seals to make it sweat-proof.
Although it might appear to be lightweight, it's actually top heavy, as the compartments housing the headphones pack some weight – though, it doesn't become too noticeable when it's actually worn. Now it's great that the
earbuds
themselves are actually adjustable in both rotation and extension to fit into the ear. Still, with all of the adjustments and using the correct sized earbuds, we don't have that firm sense of snugness.
Sadly, we're not fans of the
physical buttons
along its body, nor are we bonkers about their positioning as well since they're located in the most inconvenient areas. Starting with the left headphone compartment, it houses the indistinct feeling multifunction button, which isn't any better with its response. With this, it enables us to pick up/end a call, set the appropriate equalizer option, and play/pause/reverse/forward a track – the latter of which requires some consecutive presses (such as twice to forward and a triple press to reverse). Meanwhile, the right headphone compartment features the volume rocker, dedicated power button, LED light, two microphones, and a microUSB port that's hidden behind a plastic cover. In usage, we're constantly fumbling around trying to feel out the placement of the volume rocker, which is located along the incline.