Jaybird Sportsband Headphones hands-on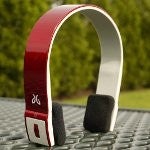 Taking a page right from the 1980s, the
Jaybird Sportsband Headphones
surely stand out from most Bluetooth headphones we tend to normally see – mainly because of its blended
80s style design
mixed in with a sleek, modern look. Even better, it also comes along with a
lifetime warranty against sweat
, so yeah, you can get through some extreme workouts with this one.
There's no denying it whatsoever, but the Jaybird Sportsband Headphones simply has a
stylish look with its design
. Nowadays, we tend to see Bluetooth headphones that wrap around the back of our heads, but with this, it pays homage to the old-school style look of yesterday's headphone style. Available in a wide array of color options, our luscious red model simply shines brightly under the sun thanks to its
glossy plastic materials
– though, it's prone to the usual set of smudges and fingerprints. Luckily, it's also adjustable to fit just about any head size, but then again, we worry that it might not be enough to accommodate extraordinarily large heads. Nevertheless, anyone flaunting this will surely attract a lot of attention.
All of its navigational controls are found on one side of the headphones, which provide us functions for pause/play/call, track forward, track reverse, volume up, and volume down. Additionally, there's a concealed microphone nearby as well to enable the wearer to seamlessly transition to a phone call from listening to music. However, it requires a
proprietary port
to charge its internal battery via any USB port. Still, we're comforted by the
punchy tones emitted by its two speakers
– as it never sounds shrill or irritating. Moreover, the cushions that are placed over the speakers ensure that it never feels too loose to use.
Honestly,
$99.99
for the Jaybird Sportsband Headphones isn't a bad deal, especially when it's a fashionable looking thing that's also solid with its construction. At its heart, it's also able to deliver a robust audio listening experience that's sure to keep those using it motivated to exercise and work out.