Bloomberg: The feds' clash with Tim Cook goes back to iOS 8, not the San Bernardino terror attack
6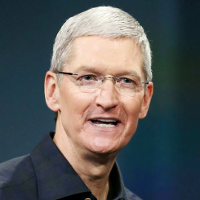 Apple is starting off a jam-packed week today. First in line is
today's event
where it will be eventually returning to the roots with a smaller iPhone that aims to convince those millions still rocking an
iPhone 5
or
5S
to switch, as well as a smaller version of the
iPad Pro
. This minimalistic event, which begins at 10am Pacific, will be followed by another big happening tomorrow - namely the start of the
court battle with the FBI
over unlocking the San Bernardino killer's infamous
iPhone 5c
.
While the
iPhone SE
and the iPad Air 3 event, or whatever they are named, will likely follow a familiar schedule, the court hearing is shaping up to be one of the grandest battles of our times. We exaggerate not, as it will determine how the chips will fall in the delicate balance between privacy concerns in the all-out surveillance age, and the authorities' demands for greater security, while the world's richest company, Apple, is right smack in the middle of it.
The Fallout
Fast forward about a year and a half after the
iOS 8 announcement
, and Apple is firmly in the government crosshairs, but it wasn't always like that. Insider interviews disclosed to Bloomberg that initially the feds weren't as adamant to break Apple's encryption as they are now, and the company even collaborated on dissuading China from acquiring access to every phone maker's encryption data. Still, the feds were caught by surprise that tech companies went ahead and introduced encrypted communications without properly aligning this decision with them. Then the San Bernardino shooting came, and now the FBI thinks it has a great case to set a precedent and stem the rising encryption tide.
For years, Tim Cook has enjoyed a fine relationship with the White House, being invited to state dinners, sitting next to Michelle Obama during the State of the Union address, and so on. It seemed that the administration itself was not unanimous on the encryption issue, which apparently led Tim Cook to believe that he can give iPhone users what they want - a secured communication device. Apple started backing off of the whole government snooping thing last October, when it denied access to the phone of a New York drug dealer, setting a precedent, and continuing firm now during the whole
San Bernardino terrorist conundrum
.
Meetings with the White House national security team, including the FBI chief and the Attorney General, failed to persuade Apple's CEO, as he argued that providing backdoors will set a bad example for countries like China that would demand the key to the house as well, just as Apple and the government fought hard to avoid precisely this scenario beforehand. The feds weren't convinced, as we all know, which led us to where we are now, with Apple due in court tomorrow for the trial of a lifetime. Which side are you on?