BlackBerry to release one or two new phones this year; both will run on Android
46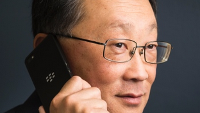 For those holding out some hope that new BlackBerry 10 handsets are coming, you have a better chance of winning tonight's Powerball jackpot of $500 million than seeing a new handset powered by BlackBerry's own operating system. Considering that the odds of winning that lottery are one in 292 million, what we are saying here is that BlackBerry plans to continue focusing on new phones powered by Android.
BlackBerry CEO John Chen said at CES today that sales of the Android powered
BlackBerry Priv
have been strong enough to confirm that the company's decision to go with Android was the right one. "So far, so good," said the executive referring to Priv sales. "I'm cautiously optimistic," he added.
Chen sees at least one, and possibly two new BlackBerry handsets getting pushed out in 2016; both will be powered by Android. That is in addition to selling the Priv in 31 countries over the next few quarters. And as we told you earlier today, in the U.S. AT&T's exclusivity will soon end
and the Priv will also be offered by T-Mobile, Verizon and Sprint
.
Handset sales this year are crucial in determining whether BlackBerry will keep the division. Chen has said that if BlackBerry doesn't turn a profit selling phones in 2016, he would sell off the business. The good news is that the boss is "confident in profitability this year."
As for BlackBerry 10, the company is getting a national security certification for the OS which would allow it to be employed by the government
and corporations. Still, no new BlackBerry 10 hardware is planned. The company will still offer the
BlackBerry Passport
and other recent BlackBerry 10 models like the
BlackBerry Classic
.
source:
CNET
Recommended Stories