BlackBerry speaks out to iPhone users about Apple's newly found focus on privacy
99+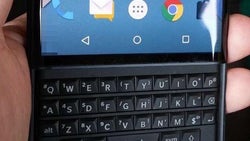 With Apple updating its Privacy Policy recently, BlackBerry today posted a message to Apple customers. On its Priv website, BlackBerry writes "
We at BlackBerry are happy to see Apple is now taking your privacy seriously
." BlackBerry goes on to add that it has built the most secure smartphones in the market over the last 20 years, and that it is naming its new phone Priv to recognize BlackBerry's long history of valuing the privacy of its customers. The point being that Apple is a 'Johnny-come-lately' in matters of smartphone privacy.
The web page also includes a new image of the BlackBerry Priv, with the slider closed. If you look closely, you can see that the Priv's browser was directed to Apple's website, more specifically, the part of the site that deals with privacy.
It is apparent that besides its killer looks, physical QWERTY keyboard, and ability to run the Google Play Store and all Android apps without a hitch, BlackBerry intends to market its Android powered slider as a secure phone. Having a secure phone is great and it is certainly important to smartphone users to know that their data and content is protected.
But BlackBerry also needs to approach the market in a way that it hasn't in a long time. And that is to show the world that the Priv is a fun phone that can let you watch a movie from Netflix, catch the ball game on ESPN, stream music from Pandora, or share your photos on Instagram. The Priv is rumored to have a nice sized battery, so that is something else that can be marketed, along with the 1440 x 2560 QHD resolution screen.
If BlackBerry gets hung up on promoting the Priv's security features, as wonderful as they might be, it runs the risk of turning the handset into a niche device. And that would mean limited sales and a lost opportunity for John Chen and his crew.
source:
BlackBerry
via
Crackberry