BlackBerry Z10 now available in the U.S. from Solavei, costs a grand
16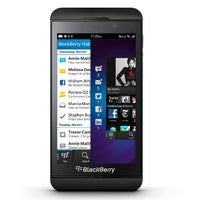 Although no major U.S. carrier will start offering the
BlackBerry Z10
until
mid-March
, the smartphone can already be purchased through a little-known MVNO called Solavei. The virtual carrier, which has been offering its services since September of 2012, rides on the T-Mobile network and provides 4G (read: HSPA+) data access to its subscribers.
However, the privilege of owning a BlackBerry Z10 before anyone else in the U.S. will cost you. Solavei has the smartphone listed for $999 on the page of its retail partner GSM Nation, which is
better than what it costs on eBay
, yet still too much to make sense to most of us.
For those interested in Solavei's services, the MVNO has its unlimited mobile plan with 4GB of full-speed data priced at $49 per month. That's not too bad considering that one can bring their own unlocked smartphone and doesn't need to sign a long-term contract. Solavei also has a referral program that may shrink your bill or even help you make cash in exchange for bringing new subscribers.