BlackBerry Passport is sold out as 200,000 units move
65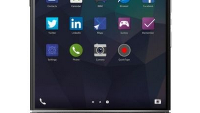 Ok, so it isn't a figure in the millions. Still, word that 200,000 units of the
BlackBerry Passport
were sold
two days after the device was unveiled
, is being seen as a positive sign for the model, and the company itself. The wide, square-shaped handset has captured the attention of the BlackBerry faithful. The device is made for the power using businessman and to BlackBerry's credit, the company went all out to build a flagship phone that not only is a great tool for business, but can compete with the flagship models offered by other platforms.
The BlackBerry Passport QWERTY also showed how Chen has his engineers working hard. Three rows of nothing but letters on the physical keyboard looks odd to be sure, but virtual keys offer punctuation based on what it is you're doing with the phone. Browsing the web? You'll see virtual keys for the colon and back slash. Sending an email? The "@" will be one of your virtual choices. The phone launches with BlackBerry 10.3
which includes the new BlackBerry Assistant
.
If one wants to fine fault with the launch, the fact that 200,000 units represents a sell out indicates that Chen is taking a conservative road with the company. That might have been warranted with a device like the Passport, which is unique in many ways. It took Amazon all of 6 hours to sell out its supply, while BlackBerry's own website was all out of the Passport in 10 hours.
The next BlackBerry will be aimed at a different demographic. In November, we expect to see the BlackBerry Classic launched. This looks like the traditional
BlackBerry Q10
with a full physical QWERTY, but adds things like a trackpad, and function keys that were removed on newer 'Berry models.
source:
Bloomberg