BlackBerry Passport now available unlocked for $599, new features announced
66
BlackBerry Passport, the star of today's BlackBerry show, is already up for sale - unlocked for $599, just as promised. The Passport comes with a 4.5-inch square touch display with a 1440 x 1440 resolution and 453PPI pixel density. Thanks to the integration of a touch-sensitive panel inside the hardware QWERTY keyboard below the display, your fingers almost never get in the way of reading or otherwise interacting with on-screen content.
The Passport's hardware brawn is supplied by a 2.2GHz Snapdragon 801 quad-core processor and a spacey 3GB of RAM along with 32GB of expandable internal storage. Running BB OS 10.3, the productive smartphone is powered by a huge 3540mAh battery, which BlackBerry said lasts 30 hours.
Although the device ships with a 13MP camera with optical image stabilization, and a powerful processor, 4K video recording isn't being advertised anywhere, but it is said that the feature will come in an update.
The BlackBerry Passport (unlocked) is available through ShopBlackBerry.com for customers in Canada, France, Germany, the UK and the U.S. immediately following the launch, at "special introductory prices":
Canada – $699
France – €649
Germany – €649
UK – £529
USA – $599
The BlackBerry Passport (unlocked) will be available through Amazon.com as well. The retailer will be announcing its pricing soon. In addition, carriers and distributors will offer the Passport with a contract for around US$249, though the exact price will vary. TELUS in Canada is first to promote the smartphone, taking $50 off the contract price from September 24th until Oct 1st. On Oct 1st, TELUS will resume the regular price of $250.
Before the end of the year, the BlackBerry Passport will be available in more than 30 countries, including the U.S., UK, Canada, Saudi Arabia and the other parts of the Middle East, France India, Singapore, Austria, Germany, Nigeria, Hong Kong, Indonesia, Malaysia, Netherlands, South Africa, Australia, Vietnam, Belgium, Italy, Switzerland, Mexico, Venezuela, Philippines, Russia, Slovakia, Spain, Romania and Colombia.
The QWERTY Touch-Enabled Keyboard
In addition to being a full-sized hardware QWERY keyboard, the one in the Passport features controls such as On-Key Scrolling, Flick to Type, Swipe to Delete, and Fine Cursor Control. The first lets you scroll through on-screen content by brushing your fingers on the keyboard like it was a laptop track-pad. This way, you never obstruct the screen while scrolling. Flick to Type and Swipe to Delete are familiar AutoCorrect experiences in which you flick upwards on the keyboard to use next-word suggestions, or flick left to erase the last word entered. Finally, Fine Cursor Control is a full-blown "cursor simulator", in which you control a cursor on-screen using keyboard swipes. This lets you zone in on specific content with great precision.
Android apps!
The BlackBerry Passport comes with both the BlackBerry World and Amazon Appstore preloaded. The BlackBerry OS 10.3 update will give BB 10 devices (Z10, Z30, Q5, Q10) the same privilege. While the BB World will give BlackBerry users apps made with their typical interests in mind (think Bloomberg, Box, Evernote, WebEx, and LinkedIn - not Snapchat), the Amazon store will put the retailer's huge selection of Android apps at your fingertips - no side-loading and hacking necessary! Games like Minecraft, Candy Crush Saga, Pinterest, Temple Run 2, and Cut the Rope 2 are yours to play. There's no word about Kindle-related functionality yet.
Embracing Android apps is a winning move for BlackBerry, as it instantly solves any ecosystem-related problem potential buyers from the Android camp might be thinking of.

BlackBerry Assistant - "Built for work"

After being spotted in leaked BB OS 10.3 builds, the BlackBerry Assistant got formally introduced as a feature of the Passport. It understands user commands nomatter whether they are spoken or typed. Being smart about the context, the assistant replies verbally if you talk to it, or you're using it in the car, and answers on-screen if you're typing silently. Otherwise, this is a fairly typical assistant. You can use it to manage work and personal email, contacts and calendars. Unlike non-BB software and devices, the Assistant is able to access work data stored in secure BlackBerry memory, as it's the way in an enterprise setting. Thus, enterprise users will be able to utilize the assistant's fullest potential on the Passport, instead of being locked out of this data if they're using a different device. BlackBerry hasn't said whether other BB 10 devices will get the assistant in an update, but it seems illogical not to.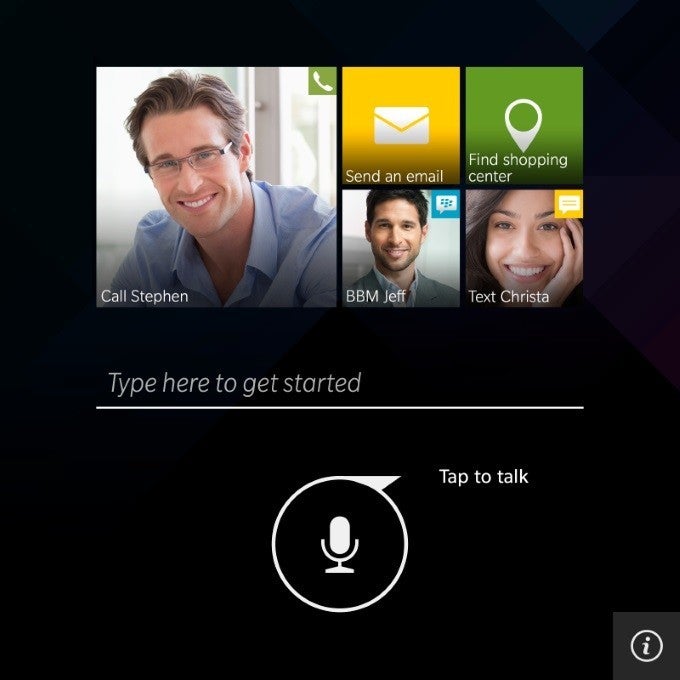 BlackBerry Hub with Instant Actions

A visual facelift aside, the BlackBerry Hub found in BB 10.3 gets the new Instant Action feature. This lets users delete, file, and manage the entire inbox by simply tapping on specific icons. As always, users can accept or decline meeting invitations, or reply to text and chat messages from social networks and apps without leaving the BlackBerry Hub. The Instant Actions feature is found in the left corner of the Hub.