BlackBerry CEO John Chen comments on BlackBerry's reconciliation with T-Mobile
10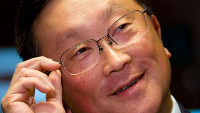 Earlier today, we told you that the
BlackBerry Classic
would
be available at T-Mobile on May 13th
. This is the first time that a new BlackBerry model has been launched on T-Mobile since a big fight between the two companies last year. In April 2014,
BlackBerry decided not to renew T-Mobile's contract
that allowed the carrier to sell BlackBerry phones. This morning, BlackBerry CEO John Chen wrote an editorial for CNBC stating that "
the bigger the break-up, the better the make-up
." Chen even said that he would even consider wearing one of those magenta T-Mobile shirts favored by the carrier's CEO John Legere, if Legere sends one to him.
You might recall that the whole fight started in February 2014 when a T-Mobile mailer to its subscribers tried to get them to swap a BlackBerry for an
Apple iPhone 5s
. Chen was livid and
thanked T-Mobile customers for their support
in a blog post. One thing that many have learned over the years from John Chen
to Donald Trump
, is that John Legere has a rapier wit. It was the T-Mobile executive who landed the best shot when he said that after unsuccessfully trying to find his BlackBerry counterpart on Twitter, he would look for Chen on the dated (and digital ghost town) MySpace. Ouch!
"Partners like T-Mobile and AT&T recognize that extreme productivity and world-class security are not easily-copied commodities and are essential features in heavy demand by specific users. BlackBerry Classic and BlackBerry Passport are unique products that stand out in an otherwise bland gruel of glass slabs. Similarly, not everyone who wanders into a T-Mobile store on a Saturday afternoon to browse is ready for the un-carrier experience...The future for BlackBerry and T-Mobile is an exciting one: two partners with strong and creative ideas on how to best serve customers, working together to do just that. Neither of us will ever compromise our values; they are what distinguish us in a crowded and noisy global market."-John Chen, CEO, BlackBerry
But the two CEO's have buried the proverbial hatchet and T-Mobile customers will be able to purchase the old-school Classic next Wednesday. The phone can be purchased by well-qualified buyers for $0 down with 24 monthly payments of $18.33. The full retail price is $ 439.92.
source:
CNBC
via
Crackberry