BlackBerry 10, Z10 and Q10 - 'meh' or 'yeah'?
54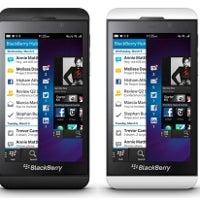 Those Canadians from BlackBerry went on fire today, introducing a smorgasbord of
handy new features with BlackBerry 10
, a slick interface, and two handsets to go with them - the
all-touch Z10
and the
QWERTY-laden Q10
.
The phones have all the prerequisites to be called modern smartphones, like HD displays and dual-core processors, and BB10 has apparently been put a lot of thought into to be made intuitive.
To top it all off, BlackBerry did its homework, and worked closely with developers before the launch to back its new handsets with
more than 70,000 apps
rather than fill in the blanks later, which would have proved catastrophic against the fierce competition. The Canadians also have loyal following in the business and government realms, as well as established global relationships with carriers which will no doubt grease the BB10 march towards user's hearts.
Still, do you think that BlackBerry 10 and the accompanying Z10 and Q10 handsets stand a fighting chance against the specs juggernaut Android, the loyal base of Apple, and the up and coming Windows Phone aided by Nokia's engineering prowess? Mark your preference in the poll below and sound off in the comments with your arguments.