BlackBerry Q10 is announced for all you QWERTY keyboard lovers, powered by BlackBerry 10
11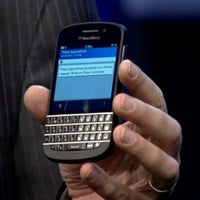 We surely knew that it was coming and now it is finally official! The BlackBerry Q10 has just been announced by
RIM
BlackBerry's CEO Thorsten Heins himself. And it goes without saying that this sparkling new smartphone is made for all you hardware keyboard lovers out there. Yeah, we know there's still many of you around.
The stand-out feature of the BlackBerry Q10 is its hardware QWERTY keyboard situated under its
3.1
-inch, 720 by 720
pixel
touchscreen display made using AMOLED technology. A so-called "glass weave cover" has been installed on the back of the device, and the fancy material is said to be thinner, lighter, and stronger than plastic. Providing all the processing power is a dual-core chip ticking inside the device, although its make and model haven't been specified yet. A duo of cameras are also on board – one on the back, paired with an LED flash, and one up front for video chats. The exact capacity of the BlackBerry Q10's battery isn't known, but its maker claims that the cell used is the largest one it has ever put in a smartphone. Both black and white versions of the handset will be launched.
Heins confirmed that all major U.S. carriers – AT&T, Verizon, Sprint and T-Mobile, have expressed interest in carrying the new BlackBerry 10 smartphones, but chances are that the BlackBerry Q10 won't be up for sale stateside until March of 2013. Information regarding pre-orders and pricing is to be announced soon.
source: BlackBerry