BlackBerry Z10 is here: all-touch and with 70,000 BB10 apps behind it
64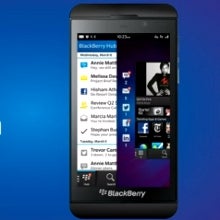 The Z10 is a fully touchscreen device, unlike the nostalgic Q10, and it sports modern specs, too, with cool patterned soft-touch material on the back. The screen is 4.2" LCD with 1280 x 768 pixels, making for a
pixel
density of
356ppi
. A 1.5 GHz dual-core processor and
2 GB of RAM
are the power under the hood, and there are 16 GB of internal storage, as well as the all-important
microSD card slot.
You will need all the RAM, because
BB10 is a true multitasking system
, like Android, so everything remains how you left it, or moves on under the hood, but is available at all times.
Cameramen will have an 8 MP rear main camera with LED flash at their disposal. It captures 1080 video, of course, and there is a 2 MP front-facer with HD capture. There is NFC, and wired connectivity includes microUSB and microHDMI ports. The Z10 is just 9 mm thick, so it won't feel chubby in your hands - all in all, a pretty decent package, and available in white, too.
It's the software that will count with BB fans, though, and a special attention has been given to the keyboard to make it as BlackBerry-esque as possible, and it indeed is a carbon copy of its physical counterparts. The added value is gesture typing with above-key choice of word suggestions and left swipe to delete word by word.
There are at the moment over 70,000 applications for the phone, which is the most any mobile OS has had at launch, among which are Skype, WhatsApp, Angry Birds, SoundHound, Rdio, Where's My Water, Amazon Kindle and so on - over a thousand of the top applications have been committed to BB10 by now.
The Z10 will be available there as fully subsidized or pay-as-you-go handsets, and in the US carriers will announce pricing at a later date.
Oh, and the new Global Creative Director for BlackBerry now - Alicia Keys.