BlackBerry 10: the new features
22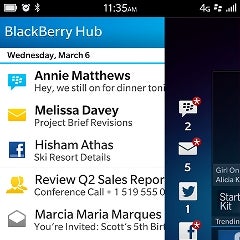 RIM just
became BlackBerry altogether
and the brand new
BlackBerry 10
mobile operating system ushered it in a completely new era that will determine the future of the company.
Given the timeframe for the launch and the pressure the Canadians were working under, they did a great job at making something different not for the sake of it, but an actually stand-out and useful experience - from the virtual keyboard through the camera options to the real time info gathering and the
true multitasking
,aided by 2 GB of RAM on the new
BlackBerry Z10 handset
.
The most amazing achievement, however, is the fact that BB10 will launch with
more than 70,000 apps behind it
, which is most than there have been for any mobile OS at launch, and shows that BlackBerry didn't want to rush anything half-baked just to have it out there, and leave clients twiddling their thumbs until waiting for major apps to arrive.
BlackBerry outed a series of walkthrough videos for all the main differentiating features of its new platform, built on the rock solid QNX Neutrino kernel, so you can familiarize yourself from the source with the innovative BB10 below.