Bing's prediction engine, employed by Cortana, had the Warriors winning the NBA Finals
12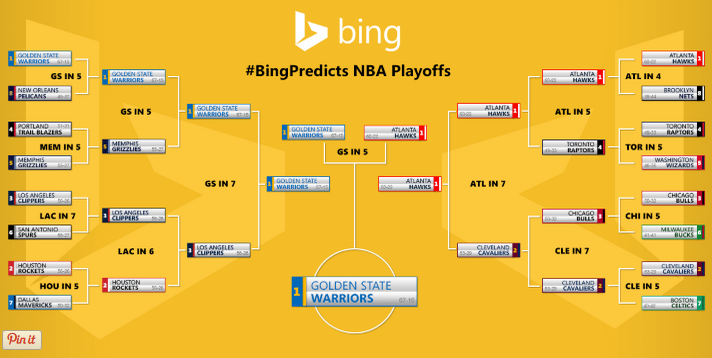 Bing/Cortana correctly predicted the Warriors to win it all before the playoffs started
We all know that Cortana is a gambler's dream. The virtual voice-activated personal assistant has
proved her forecasting abilities with amazing calls in the World Cup
,
the Super Bowl
and
even in a European singing contest
. What you might not know is that Cortana employs Bing's prediction engine to make these great calls.
So how did Bing (and thus Cortana) do during the now ended NBA post-season. Amazingly, out of the 15 series that made up the playoffs, Bing/Cortana had correctly predicted 12 of them. The stats that were used to make the picks included historical team performance, head-to-head results, home-court advantage data, playoff experience, year-over-year team composition and more.
While Bing/Cortana did call for the Warriors to win it all
before
the playoffs started, one of the three series it had wrong was the Eastern Conference Finals. The Cleveland-Atlanta match-up was correctly predicted, but Bing/Cortana perhaps failed to dial up LeBron James' will which led it to predict a Golden State-Atlanta Final.
Still, the predictions overall were quite impressive considering that injuries, fatigue and travel can play an important part in a best-of-seven series.
source:
MSN
via
MicrosoftNews