Cortana does it again! Virtual personal assistant correctly predicts winner of singing competition
11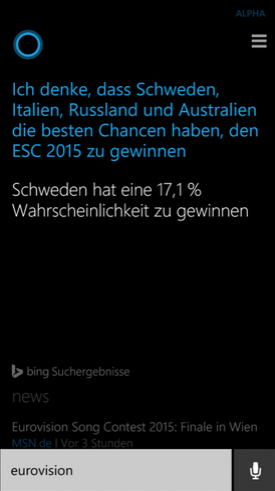 Cortana predicts another winner
Until Cortana
becomes available to Android and iOS users
like Microsoft is reportedly planning, Windows Phone handsets might be attracting gamblers and investors (never mind that many think that both are the same thing). Ever since Microsoft's virtual, voice-activated personal assistant
predicted 15 out of 16 Knockout Round winners
during last year's World Cup, many people have become interested in what the app is predicting.
Even though
Cortana made an impressive (and correct) Super Bowl call
, the app has been asked to predict more than sporting events. For example, when asked to predict the winning countries of the Eurovision singing contest, Cortana said that Sweden would win followed by Russia, Italy and Australia. While the personal assistant did have the top three correct, Belguim finished fourth followed by Australia.
Still, it was another impressive forecast made by the algorithm devised by Microsoft. We wonder what Cortana expects the S&P 500 to do for the balance of the year.
source: WMPoweruser