Beware, Glass! Lumus, a military contractor, seeks to bring F-16 tech to smart glasses
10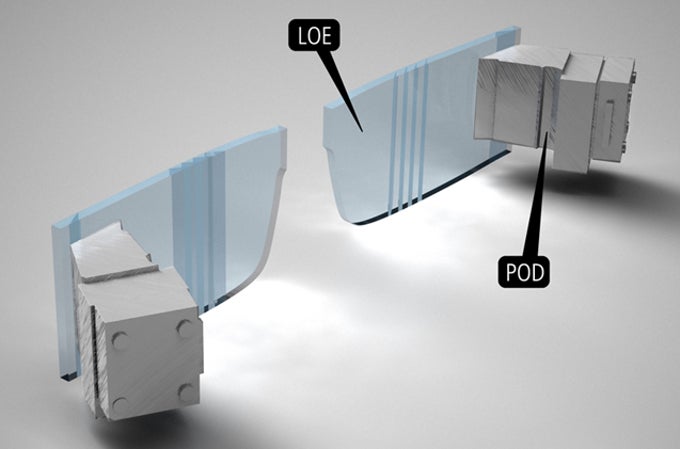 The manufacturer behind the helmet heads-up displays of the F-16 fighter jets, Lumus, announced that it's going to make its military eyewear technology available for smart glasses manufacturers very soon. The company unveiled its new wearable display development kits, the DK-32 and DK-40, as well as an Optical Engine Module. While these kits are still under development, the latter will soon be available to those manufacturers that want to implement Lumus' technology into their own smart glasses.
The first development kit that Lumus showed was the DK-40 – a standalone system, which consists of a monocular VGA display with a 25-degree field of view, an OMAP processor, a motion sensor with 9 degrees of freedom, and a 5MP camera. The whole shebang is powered by Android. Lumus says that any Android smartphone might be used as a remote control for the DK-40 thanks to the latter's programmable application processor.
The other wearable development kit, the DK-32, is a binocular system that comes with dual 720p displays. The kit is not only 3D-compatible, but also supports HDMI.
Both the DK-40 and the DK-32 use the Optical Engine Module, developed by Lumus. This module consists of a Light-guide Optical Element (LOE) and a Micro-display Pod. The Micro-display Pod is housed into the temple of the smart glasses and projects the image directly into the LOE. The latter consists of a thin lens (1.6mm), which displays the image in front of the user's eyes. The LOE is touted as being similar to "watching a 87" screen from a distance of 10 ft".
Lumus states that the lens won't cause any diziness or fatugue to the human eye, because the LOE uses sophisticated methods to perfectly align the projected image. A similar technology is used in the head-up displays, which the company manufactures for the helmets of the F-16 fighter jets.
The company says that the DK-32, the DK-40, and the Optical Engine Module will be sold to manufacturers only.
source:
Lumus
via
Pocket-lint