Best tablets of CES 2011: Editor's Pick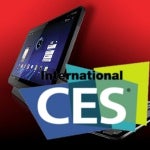 Last year's CES was all about thenetbooks, this year tablets are all the rage, and we already start towonder what next year will bring. Even though they are not as mobile ascell phones, tablets are still pocketable. Ask Samsung Mobile's ownJK Shin, who took out a Galaxy Tab straight out of his jacket pocketat CES! Not all of these new "pocketables" come with WWAN, butthe major ones do and this means a contract. Let's see just how exactly tablets fit into the carrier'slineups. So without further waiting here are our top tablet picks from this year's show!

Verizon:
Verizon had one of the biggest networklaunches so far and it will need various tablets to cater to all ofits subscribers' needs. And Big Red had some good news – itannounced that it will ship both 7 inch and 10.1 inch tablets thisyear. The big name here is Motorola XOOM, which is set to take onApple's iPad with a 10.1 inch screen and a dual-core ARM-based Tegra2 chipset to run the Honeycomb show. Motorola's tablet will ship inthe first quarter of the year with 3G only, but you will be able toupgrade it with a 4G LTE module sometime later.
FEATURED VIDEO
Acer ICONIA Tab A500
, which is a 10.1-inch Tegra 2 tablet coming in April withLTE on board. And if you are looking for a smaller-sized slate, Verizon is getting the 7-inch
Samsung Galaxy Tab 4G LTE
later this year.
AT&T:
The nation's second largest carrier hasApple's iPad, which set the stage for what we can confidently name astablet wars now. And even though we did not see any specific AT&Tbound slates at CES, there most probably will be some additions toAT&T's lineup. Whatever they are, Apple's next generation iPadremains the carrier's biggest trump card, so let's hold our breathsand wait it out.
Sprint:
BlackBerry PlayBook
will come with a very intriguing new OS craftedby QNX. It was stupefying to see how it handles multi-tasking and wewill definitely get a closer look at the tablet when it comes closerto its launch. For the time being check out our hands-on of thePlayBook:
T-Mobile:
T-Mobile is doing a lot to push itsHSPA+ network to higher heights and is promising up to 42 Mbpsof download speed by the end of the year. Similarly to the launch ofthe first Android phone, T-Mobile chose the G nickname for the launchof its 4G tablet – the T-Mobile G-Slate. Sized at the healthy 10inches, the LG-made tablet will run on Honeycomb. All other detailsremain mysteriously hidden, even the launch date.
T-Mobile will also feature two Dellslates. The Dell Streak 7 will surf the carrier's 4G waves with thepower of a dual-core Tegra 2 chipset and launches this month. CESteased us with a view of the upcoming Dell Streak 10, but except forthe 10 inch screen size and Android OS, all the rest remains asecret.

Other tablets:
Some other tablets were not confirmed for one carrier or another yet, but nevertheless pack some impressive features that caught our attention. ASUSannounced its four tablets right before the official launch of CES and set the bar high for the show. The first announced slate was the ASUS Eee Pad MeMO, which is a smartphone/tablet hybrid with a 7 inch screen and a dual-core Qualcomm processor. The MeMO is expected to come with Honeycomb. Two more Android tablets will join the series - the ASUS Eee Pad Slider and the ASUS Eee Pad Transformer. Check out our first look at the devices for more detailed specs.
Lenovo's LePad is another hybrid device after the MeMO, which also deserves an honorable mention with not only its solid specs, but its docking station. The latter has an Intel Core i5 processor clocked at 1.2 GHz and adds 1 GB of RAM to LePad's built-in 1 GB for a total of 2 GB. Originally the LePad runs Android, but when docked, it turns into a capable Windows 7 netbook. The bright idea comes at a hefty price and is offered only in China so far, but even if it does not become massively popular, it comes to show how tablets and smartphones threat to eat in to notebooks' market share.