Best phones of CES 2011: People's Pick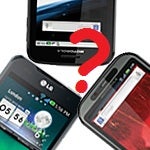 With
CES 2011 completed
, it's obviously time for us to sit down and think about the handset/s that managed to impress us most. Last week we shared our
top picks of CES 2011
with you, but now it is your turn to sound off. Just as a reminder, we're again providing you with a short run-down of what was showcased in Vegas from the top manufactures and wireless providers. However, what's added even more intrigue to the already high-spirited mobile universe this month is the news that the
Verizon iPhone 4 will be announced
during a special press event held by the carrier on January 11th (today) at New York's Lincoln Center. We can't say for sure why this announcement wasn't made during CES, but it most likely has to do with Verizon and Apple wanting a separate event, since it would of overshadowed the slew of other
4G LTE devices
that were unveiled (Verizon reason), while you know Apple - it never wants to share the fun with the others.
Verizon Wireless
Without a doubt, Verizon made the most noise at CES with their
4G LTE network and devices
. Here are the top picks.
After the success of the
Motorola DROID X
last year, Verizon is bringing it up a notch with the new
Motorola DROID BIONIC
. Naturally, this smartphone can access Verizon's 4G LTE network, but is also (for now) the only official phone for the carrier that will use the 1GHz dual-core
NVIDIA Tegra 2 processor
. Even though the DROID BIONIC doesn't have the ATRIX's docking station and only comes with 512MB of RAM, the TFT display is a bit larger at 4.3" with it maintaining the qHD (540x960
pixel
) resolution. Android 2.2 is also on board, along with dual cameras (8MP & VGA for video chat), and an HDMI video out.
The
HTC ThunderBolt
also uses the 4G LTE network and is basically the Verizon version of an updated EVO, though it's construction is more solid feeling. The ThunderBolt comes with Android 2.2 with HTC's famous Sense UI interface, allowing better customization and personalization within the OS. The rest of the specs aren't too shabby, packing a 1GHz Snapdragon processor, 4.3" WVGA (480x800 pixel) display, dual cameras (8MP & 1.3MP for video chat), SRS rear speaker, 768MB RAM / 8GB internal storage, and a comes with a pre-installed 32GB microSDHC memory card.
After the
LG Ally
that got a poor reception last year, LG is hoping to turn things around with the newest Android smartphone for Verizon, the
LG Revolution
. But other than it's good looks and LTE support, there's nothing that really sets it apart from other devices, coming with Android 2.2, a 4.3" TFT WVGA (480x800 pixel) display, dual cameras (5MP & 1.3MP for video chat), and 1GHz processor. But we do like that the Revolution includes Bluetooth 3.0, DLNA support, and has an HDMI out.
The
unnamed
Samsung 4G LTE smartphone
(model SCH-i520, rumored to be called "Inspiration") for Verizon has one thing that Samsung is know for, their impressive 4.3" Super AMOLED Plus display (450x800 pixels). Other features are pretty similar with Android 2.2, Samsung's TouchWiz UI, and dual cameras (8MP & 1.3MP for video chat). Unfortunately it only comes with the 1GHz processor instead of the 1.2GHz that is on the Samsung Infuse.
*
UPDATE
*
Now that the
iPhone 4 is official for Verizon
, we'd like to know if that is what you've been waiting for, even though it was announced earlier today (Jan 11) and not at CES last week. The only real difference here is that the Verizon iPhone will naturally work on Verizon's CDMA voice and 3G EVDO Rev A data networks, not 4G LTE (maybe iPhone 5?), while the AT&T version is GSM with a SIM card. The Verizon iPhone4 will continue to share the rest of the specifications that is on the AT&T model, such as the 5MP camera, face time video chat, and 3.5" retina display (640x960 pixel resolution). The device will ship on February 10 for $199 (16GB model) and $299 (32GB model) with a 2-year contract, though it can also be purchased at a higher non-contract price.
AT&T
The hot new phone for AT&T is the
Motorola ATRIX 4G
. It runs on Android 2.2, has an impressive 4" qHD TFT display (540x960 pixels), two cameras (5MP & VGA for video chat), and makes use of the 1GHz dual-core NVIDIA Tegra 2 processor with 1GB of RAM. But what sets the ATRIX apart are the new docking options that can turn it into a laptop-PC type device.
Bigger is better when it comes to the
Samsung Infuse 4G
, as it packs a massive 4.5" Super AMOLED Plus display with 450x800 pixel resolution. This thin smartphone comes with Android 2.2 with Samsung's TouchWiz UI, dual cameras (8MP & 1.3MP for video chat), and runs on the speedy 1.2GHz Hummingbird processor.
Last, but not least, the HTC camp introduced the
HTC Inspire 4G
, which is yet another powerful Android smartphone with a large screen (4.3") and an 8MP camera. The smartphone has the still snappy single-core 1GHz Snapdragon SoC and 768MB of RAM.
Sprint
The only news from the Sprint camp is the new
HTC EVO Shift 4G
, that now comes with a sliding QWERTY keyboard, 3.6" WVGA TFT display (480x800 pixels), 5MP camera, 800Mhz processor, and runs on Android 2.2 along with Sprint's 4G WiMAX network.
T-Mobile
The
LG Optimus 2X
will probably be the first 1GHz dual-core smartphone for the carrier using the NVIDIA Tegra 2 processor. Along for the ride is Android 2.2, a 4" IPS LCD display (480x800 pixels), dual cameras (8MP & 1.3MP for video chat), as well as LG's Optimus 2.0 UI and Gesture UI to give the phone a customized appearence and add functionality. Then came the
Motorola CLIQ 2
with its 3.7" display, which comes to succeed Moto's first official Android device ever.
------------------------------------------------------------
So, after that brief reminder, please feel free to use the
poll
below, in order to let everyone know which phone you are most interested in, and be sure to speak up in the Comments section as well! We'll take a look at the results on Thursday evening and put up an article to draw a conclusion as to what you people have liked the most.