The best iPad to buy right now is an old iPad
This article may contain personal views and opinion from the author.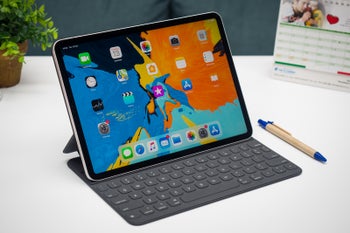 What is the best used iPad? In 2018, we saw the introduction of three new iPads — the 6th generation iPad, which was a refresh of the $330 "budget" model now made to support the
Apple Pencil
, and two new additions to the
iPad Pro
line, with a new design and Face ID.
And I can't help but feel that now is the best time to actually buy an older model iPad. Let me explain.
The best used iPad? The iPad Air 2 is better value than the $330 iPad (2018)
Well, that's a weird thing to say, considering the two devices are 4 years apart. But, believe it or not, the good old Air 2 still has the chops and is the best used iPad to get.
Back when the
iPad Air 2
was released (2014), it was the flagship model, the top of the line tablet that Apple had in its portfolio. As such, it had all the perks, including a new display build, which glues the LCD panel to the touch sensor and covering glass very tightly together. As a result, there's no perceivable air gap between the glass panel and the content on the display, making for a very immersive experience. To top it off, the glass is covered by an anti-glare coating, which does a wonderful job. Since then, the coating and the super-thin display panel have become exclusive to the iPad Pro lineup, while the budget model has a screen that is perceivably worse-looking. It still has that Apple-quality of image reproduction, but it just doesn't compare to the flagship models.
The Air 2 is thinner and lighter than the
6th generation iPad
. The 6th gen iPad is 7.4 mm thick and weighs 478 grams, while the iPad Air 2 is 6.1 mm and 437 grams. The difference sounds negligible on paper, but when holding the Air 2, one is always shocked at how thin and light it is.
As for hardware power — yes, the iPad Air 2 is powered by the Apple A8X processor, which is considered to be aging but it certainly doesn't feel like it. Apple's mobile chips are quite powerful, as we know, and they work amazingly well with iOS. The Air 2 still runs fast and smooth.
Benchmarks aside, if you put the Air 2 right next to the budget iPad 9.7 (2018), the latter will always be a smidgen faster when booting games or when rendering videos with iMovie. But if you are looking into a budget tablet, I'd wager you are more interested in Web-browsing, ebook reading, social media, and videos. For all these activities, I feel the Air 2 is the better slate to pick up simply because it's lighter to hold and it has the superior display.

And now for the price — looking at listings in Amazon, one can easily find a refurbished Air 2 with 64 GB of storage for about $270. That's $60 less than the iPad (2018) with 32 GB of storage and we all know how precious that storage space can be! If you wait for the proper deal, you can even find a cellular variant of the iPad Air 2 at the same price as a new 6th generation iPad.
Stereo speakers? Neither the iPad Air 2 nor the iPad (2018) have true stereo speakers. Both have dual drivers, but since they are located on the bottom of the tablet, next to the Lightning port, you won't really perceive a left and right channel while using the slate in portrait or landscape.
The only thing you would be missing out on is support for the Apple Pencil / Logitech Crayon. Of course, if sketching is a priority, you've got no choice but the iPad (2018) or an iPad Pro. Which brings me to the next point:
Want an iPad Pro? Get an old one...
For one, the new iPad Pros — both the 11-inch and 12.9-inch variants — seem to be plagued by
a nasty bending issue
. The slates are super-thin and, apparently, this made them super-fragile. This is not even an allegation, Apple
came out and said
"Yeah, the design will do that, but it's OK, your tablet will still work even if it's slightly bent".
Not cool for a Pro tablet that costs as much as a laptop.
Yes, I will mention the headphone jack
The new iPad Pros also lack a headphone jack. Now, this is something we don't raffle about a whole lot when it comes to consumer products. Simply because the issue is easily alleviated by using a dongle or a Bluetooth headset, as annoying as it may be to constantly need an alternative.
However, when we are talking about a Pro-branded product, it's a bit more wince-inducing when the manufacturer cuts ports. Even Apple's promo materials showed the new iPad Pros being used for music production / DJ work. This is not something you want to do with a Bluetooth headset, so you will need an audio interface that hooks up to the tablet's USB Type-C port and provides a headphone output. Also, said interface had better have a port for your MIDI controller since you just plugged your only available USB port.
To play devil's advocate — it's pretty clear that if you are any type of musician who wants to use the iPad for professional work, you will definitely need an audio interface anyway. And you will use that interface's audio output. So the lack of a headphone jack is not a huge hurdle in the big picture. But it's a nuisance, which makes your super-portable production machine less portable. It also happens to force your hand with your choice of accessories, which brings us to the next point:
USB Type-C is great, but what about the accessories?
For years, Lightning has been the iDevice standard. All manufacturers jumped on the bandwagon and have a plethora of products for iPads with a Lightning connector. So, if you own a gamepad, an audio interface, mixing deck, MIDI adapter, card reader, or any other type of accessory, it's equipped for Lightning, and you will either need a Lightning to USB Type-C dongle (if one fits your accessory at all), or a new cable (if one is available).
My point is, when it comes to hardware accessories, you still have a wider choice if you have a tablet with a Lightning connector and they will be supported for quite a while since manufacturers are very well aware that people don't upgrade their iPad Pro as soon as a new one hits the market. As of right now, a lot of the old Lightning accessories may work with a new iPad Pro via a USB Type-C dongle or a new cable. However, the ways devices communicate through Lightning and through USB are slightly different and manufacturers report that some of their current devices are not fully functional on the new tablets.
The iPad Pro 10.5 (2017) looks like the best model to buy right now
All that said, I can't help but feel that the
iPad Pro 10.5-inch (2017)
is the best contender for your money right now, the best used iPad. It still has a relatively new design, with its bezels being proportionally smaller than the ones on the
Pro 12.9
and older
iPad Pro
models, so you won't be feeling like you are using an ancient device.
Its hardware is still top-notch. Sure, the new A12X Bionic processor is awe-inspiring in terms of performance, even beating some laptops, but don't be fooled into thinking that the older iPad Pros will lag behind in real life use. On the contrary, they run amazingly well when you throw whatever iOS has at them. In fact, while the new A12X processor is super-impressive in benchmarks, I'm not sure there's an app on the App Store that actually makes use of its full power (yet). Yes, the
full-fledged Photoshop
, which should come sometime in 2019, was demoed on an iPad Pro (2018), but word is it'll be available for the 2017 models as well (and hey, that makes sense).
The downsides — the older Apple Pencil is not as nice as the Apple Pencil 2. It doesn't attach with a magnet or charge wirelessly and it doesn't have a touch-activated button on its side. But hey, at least it's a bit cheaper. The old Smart Keyboard is also clumsier, with its bulky fold design. The new, magnet-based accessories for the iPad Pro (2018) are definitely much more elegant and easier to use. But they are not enough to win me over.
The second-generation Apple Pencil
It's also worth mentioning that, if you go for an older model, you will pass up on having Face ID and Animoji on your iPad, but will get Touch ID in return. But that's neither here nor there. As far as gestures go — iOS 12 brought all the navigation gestures from the
iPhone X
to the whole iPad lineup, so you can navigate your iPad Pro 10.5 without ever needing to press the home button.
And, of course, when you are considering an older generation device, you've got a choice between new old stock, refurbished, or second-hand items. Right now, you can land a refurbished
iPad Pro 10.5-inch
with a whopping 256 GB of storage for $530. The new 11-inch ones start at $800 for the 64 GB variant.
Well... with the stacked issues, accessory woes, price differences, and the fact that the iPad Pro 10.5 is still a perfrectly good machine, it's just hard for me to recommend the newer models.