Best display for outdoor use: here's the (intergalactic) winner
32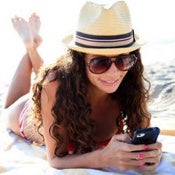 Last week,
we took 8 of the best phones out there in the harsh mid-day sun
for a photosession, and we asked you: which of those eight finest has the best display for outdoor use?
The sun makes it harder to read anything on any phone's display, but some are noticeably better than the others, with less reflections and higher brightness that puts less strain on the eyes.
Best of the eight
You were the jury, you've done your job of voting for your favorites and the verdict is in. In an almost unanimous decision, you've voted that the Samsung Galaxy S5 does best outdoors, with its brightest AMOLED screen to date that trumps even traditionally brighter LCD screens. With a whopping 57% of your votes, the S5 has a commanding lead over another Samsung, the Galaxy Note 3 that came in second. Third and fourth came the new HTC One M8 and the Apple iPhone 5s, respectively, with the HTC being ahead just slightly.




The gold medal: on the podium

Next, we took out just the three best selling devices of the bunch: the Apple iPhone 5s, the Samsung Galaxy S5, and the HTC One M8 in a 3-way matchup. Once again, the Galaxy S5 got such an overwhelming advantage of more than 80% of your votes, that it seems like a clear winner, with almost no contest.




The battle for Android
Finally, we look at just the two top Android devices: the newly launched Galaxy S5 against the One M8. By now, it's probably clear that one device with galactic ambitions will run away with this one: and it indeed does - the Galaxy S5, of course, comes up again with a crushing advantage. It got nearly 85% of the votes, while the M8 received only around 15%.