Best Labor Day Sales on phones, tablets and true wireless earbuds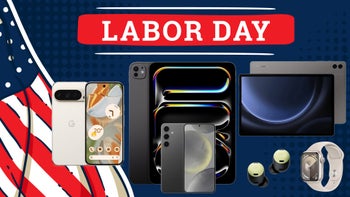 We are now entering the exciting fall season, and we expect a lot of cool new phones to see the light of day. There's no better time to hunt for deals on cool smartphones.
Black Friday
,
Amazon Prime Day
, and Labor Day are all deal-packed days, so it's a great time to upgrade and save some cash.
When is Labor Day 2020?
In the States, Labor Day is celebrated on the first Monday of September. This year, Labor Day was on September 7th, but when exactly do Labor Day sales start and end? As far as we're concerned, Labor Day sales and deals on our favorite mobile tech
are still available
, so even though the official day has passed, we still have some exciting Labor Day deals and offers. Check them out here below, and hurry up as those may not last for much longer!
Labor Day sales on smartphones
Samsung
's newly-released
Galaxy Note 20
is seeing some big discounts, which is a great way to get your hands on this Snapdragon 865 Plus powered device for less than expected. The
iPhone 11
deals are also trending at the moment, if you happen to be an
Apple
fan. So, let's dive into these interesting Labor Day sales on phones.
AT&T has a great deal to help you upgrade to Samsung's newest flagship Note 20 5G and
Note 20 Ultra
. You can get the new Note 20 5G for free with trade-in of an eligible device, so head over to AT&T's website and check out this awesome deal!
Verizon also has a great deal on the new
Samsung Galaxy Note 20
. The carrier offers a cool deal just in time for Labor Day. With this deal, you can get up to $550 off with trade-in of an eligible device; and if you switch to Verizon you can get additional $150 and 5G. So, go check this cool Verizon offer out!
And yet another good offer on the new Samsung
Galaxy Note 20
5G, this time coming from Samsung itself. With a trade-in, you get an instant discount of $650 or if your trade-in device is with a cracked screen, fear not! You can get up to a $400 discount from Samsung for a device with cracked screen. Head over to Samsung's website to get more info on this awesome deal!
The
Galaxy Z Fold 2
is now here and Samsung now has a Labor Day deal for you if you want to be from the early buyers of the foldable phone. If you pre-order your Z Fold 2 now, you can save up to $800 with eligible trade-in of a Z Flip or Z Fold (you can get it for $1199.99, its regular price is $1999.99). What's more, you can even get Galaxy Buds Live and Watch3 for just $250 with this pre-order. Wait no more and head over to Samsung's website to check out more details on this deal!
Samsung also has a great deal on the Samsung
Galaxy Z Flip 5G
just in time for Labor Day. The beautiful clamshell foldable is now discounted at $799 with eligible trade-in smartphone. Samsung also offers a discount even if your trade-in device has a cracked screen: in this case you can get the Z Flip 5G for just $979.99. Its original price is $1499.99, so head over to Samsung.com to check out this great opportunity!
The
Galaxy S20
Ultra is a flagship beast, even though it was released in the beginning of the year. If you're looking into buying one for yourself but you're concerned over its expensive price, worry not, there's a deal on it too. Samsung now offers the stunning Galaxy S20 for just $899.99 with a trade-in of an eligible device. This way, you can shave off up to $500 of the phone's regular price of $1,399.99.
Maybe you're into iPhones? AT&T has an offer for you. This great
iPhone 11
deal gives you up to 50% off of the stunning iPhone 11's price. You get up to $350 in bill credit, which is actually 50% of the price of the iPhone 11 64GB, definitely not bad! You can check the conditions and get this deal on AT&T's website.
OnePlus is also joining the Labor Day sales with a very cool deal. You can get a $100 discount on the very powerful
OnePlus 8
with 12GB RAM with the coupon code OPLD100OFF that you can apply at checkout. Just head over to OnePlus's website to check out this great OnePlus 8 Labor Day deal.
If you're on a tight budget, don't worry, there's deals for budget-friendly smartphones too. Now, you can get the budget LG
Stylo 6
or Samsung Galaxy A21 for free when you switch to Metro by T-Mobile. Both these handsets are normally sold for $259.99, but when you port-in your existing phone number to Metro, you can get an instant $259.99 discount, basically meaning you pay $0 for the phones; you just have to pay an activation fee of $20.
Samsung's cool mid-range
Galaxy A71 5G
is now on sale with an enormous discount of $175. You can get the 5G-ready device unlocked from Samsung for just $424.99, so if you're looking for a budget-friendly, but future-proof device, head over to this deal and get yourself a new
Galaxy A71
5G.
Awesome Labor Day sales on tablets, laptops and smartwatches

Although a bit older, the Apple
iPad Pro
12.9 3rd gen is still a great tablet for school or work. It's regular price is usually around $1,150 but B&H has this exciting sale just in time for Labor Day and offers the iPad Pro for just $799. You save $350 with this great iPad deal! If you feel like getting yourself a capable and yet not crazy expensive iPad Pro, do check out this offer.
If you prefer Samsung's tablets, Samsung just released its newest Galaxy Tab S7, but last year's model, the Galaxy Tab S6, is still a good option for work and play. Amazon now offers a discount on it just in time for Labor Day, saving you a good amount of bucks off the tablet's original price. Head over to Amazon to check out this great deal!
However, if you really want the newest Galaxy Tab S7, you can now pre-order it and get a good discount from Samsung. If you have an eligible device for trade-in, you can save up to $450 with your pre-order, so hurry up and head over to Samsung to check out the details!



If you want a laptop that can be used as a tablet too, Dell has your back covered. The versatile Inspiron 14 5000 2-1 laptop's hinge offers different viewing positions for whatever you are doing. It has a "tent mode" for watching videos or a tablet mode if you prefer to interact with it as if it was a tablet. Amazon offers this cool piece of tech for Labor Day at a great discount. Check it out down below!
Lenovo has a great offer for Labor Day on laptops. You can now get the thin and powerful Lenovo Yoga C940 laptop for just $899.99, which is an enormous $350 discount over its regular price of $1,249.99.


HP now also offers early Labor Day sales on some of its laptops. With this deal, you can get the HP ZBook 15v G5 Mobile Workstation for just $805.20, which is almost 40% discount off of its regular price of $2,013 for the base model. If you're in need of a new laptop, don't hesitate to check this deal out!
We find another great Labor Day laptop deal again at HP. You can get the HP Laptop 15t with a big discount for just $549.99, while its original price is $789.99. Go check it out on HP's website!
Samsung is gearing up for Labor Day sales and now offers a new exciting deal on the newly-released
Galaxy Watch
3. With this deal, you can get an instant credit of $150 or more if you have an eligible smartphone, tablet or smartwatch to trade-in.
Great deals for Labor Day on AirPods, Galaxy Buds and other earbuds and headphones
Okay, enough with the cool smartphone and tablet Labor Day deals, what about some nice sounding
earbuds
to pair with your smartphone and enjoy music and podcasts? There are awesome Labor Day sales on earbuds as well.
First off, we start with a cool Samsung Buds Live deal from AT&T. The newly-released earbuds are off $50 if you buy an eligible Samsung smartphone at the same time. You can check more details on this great Samsung Buds Live deal on AT&T's website:
If you prefer Apple, Amazon currently has an awesome
AirPods
Pro discount, the best price for the AirPods Pro you can find right now. Check out this great Amazon AirPods Pro deal down below:
Amazon also offers a great deal on the standard AirPods with charging case, so if you prefer them instead of the AirPods Pro, head over to Amazon's offer down below and check them out!
Another great deal we find at Best Buy, this time about the gorgeous-looking Powerbeats Pro by Beats by Dre. These true wireless headphones usually cost $249, but Best Buy gives you a $50 discount and you can get these earphones for just $199.

JBL also has some exciting products on sale for Labor Day. You can now get the small but very powerful JBL Live 300 True
Wireless headphones
with a cool discount on their regular $149 price. Head over to Amazon.com to check out this offer and save some cash!
Here's another cool Labor Day deal by JBL: over-the-ear wireless headphones JBL Live 500BT are now offered for just $99.99 on Best Buy. With this great offer, you save 33% of the original headphones' price, while still getting the signature JBL sound with enhanced bass, so don't hesitate and head over to Best Buy for more info.
Speaking of over-the-ear headphones, Samsung also has a discount for you. With this deal, you save $150 over the $299.99 regular price of these gorgeous AKG headphones with active noise cancellation.
Another cool deal that Samsung offers for Labor Day is on the Galaxy Buds Plus. This deal gives you a $10 discount on these cool true wireless earbuds. Their regular price is $149.99 and for a limited time you can get them for $139.99. Check out Samsung's Labor Day sale on the Galaxy Buds Plus on the link below:
And if you're planning on getting a OnePlus 8 phone, OnePlus offers a great Labor Day deal for you. For a limited time, you can get a free pair of the OnePlus Buds with your purchase of a OnePlus 8 series' phone. The coupon code for it is SEPTFREETWS. Check this OnePlus deal out down below!