Labor Day Sale 2021: deals available right now (updated)
4
We may earn a commission if you make a purchase from the links on this page.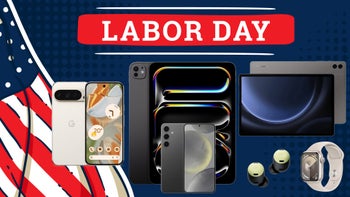 This article will be regularly updated once new Labor Day deals on mobile tech products show up, so don't hesitate to bookmark this page if you're looking for the best discounts.
Labor Day is almost here, coming this Monday, September 6th, and many of the carriers and major retailers are already presenting us with great deals on your favorite tech devices: phones, tablets, headphones, and other tech is discounted so you can get your hands on your new gadget during the Labor Day sales.
There's no time like the coming days to hunt for cool smartphones on the market.
Black Friday
and
Cyber Monday
are still a long way off, so Labor Day is a great time to upgrade and save some cash.
Check out the Labor Day sales and deals already available on phones, tablets, headphones, wearables, and Bluetooth speakers.

When is Labor Day 2021?
In the States, Labor Day is celebrated on the first Monday of September. This year, Labor Day falls on September 6th.
Without further ado, let's jump straight into the deals for Labor Day that are already live.
Best Labor Day deals on Samsung Galaxy phones
Samsung has kick-started Labor Day sales with some great discounts on its official page. The tech giant has deals on its newest and hottest foldable flagship phones, the
Galaxy Z Flip 3
and the
Galaxy Z Fold 3
, tremendously discounting them just in time for Labor Day. The powerful beast
Galaxy S21 Ultra
is discounted as well. Keep in mind that all the discounts on Samsung's website require you to have an eligible trade-in device to benefit from them.
However, trade-in or not, you can get a free set of Galaxy Buds 2 with any purchase of the Z Fold 3 or Z Flip 3.
AT&T has also started its Labor Day sales with discounts on the hottest flagship Galaxy phones as well. The Galaxy Z Flip 3 and Z Fold 3 are up to $1000 off with trade-in and Unlimited plan. The trade-in is pretty generous, too — you can turn in an old
Galaxy S9
and you still get $1000 off.
Back to Samsung's website, the Galaxy S21+ and Galaxy S21 Ultra are $200 off in instant savings, while the Galaxy S21 is $100 off. You can further enhance the discount if you throw in an old device to trade-in (cracked screen devices also accepted).
Best Labor Day deals on iPhones
Many of you may probably know, but iPhones rarely get big discounts during shopping events. However, AT&T's Labor Day deals have graced us with some great trade-in deals on the newest available iPhones, such as the
iPhone 12 Pro Max
and the iPhone 12, which are both currently discounted by $700. Of course, to benefit from these deals, you will need an Unlimited plan with the carrier. Additionally, the iPhone 12 mini can be yours 50% off with no trade-in, and the same Labor Day deal is available for the iPhone 11.
Over at Verizon, you can nab an iPhone 11 for free, as long as you sign up for an Unlimited plan.
Additionally, Best Buy has a sale on the iPhone 12 mini, and you can save $300 with qualified activation. The cool thing about this deal is that it doesn't require you to have a trade-in device to benefit from it.

Labor Day deals on smartwatches
Samsung's Labor Day sale extends to the newly-announced Galaxy Watch 4 and the Galaxy Watch 4 Classic, so you can save if you're willing to upgrade to one of these two smartwatches.

Best Buy also has some discounts, although these are not Labor Day-specific deals, and the Galaxy Watch 3 is currently $100 off. The 40 mm Apple Watch Series 6 has gotten a serious $150 price drop. If you are after a bigger, 44 mm, model — look over to the Apple Watch Series 5 clearance sale instead.

Labor Day deals on tablets and iPad
We continue on with Samsung, which currently has some great offers in the Galaxy Tab department as well. On the other hand, if you're looking for an iPad, Best Buy currently has some good offers on the iPad Air 4th generation.
Best Labor Day deals on Google Pixel
Google Pixel phones are another option for you if you don't want to go for an iPhone or a Samsung Galaxy phone, and they are already quite affordable even with no deals available. With Labor Day sales, Pixel phones are getting prices that are hard to miss.

So far though, there aren't many Labor Day sales on Pixel phones, but fret not, we'll make sure to update this article once they show up.

Now, Best Buy is giving $50 off on the Google Pixel 4a with same day activation:
Labor Day deals on Motorola phones
Motorola has now jumped on the Labor Day sale train and is adding great deals on almost all of its smartphones. The affordable and mid-range phones Motorola makes are up for a Labor Day sale ranging from $200 off to more modest $70 off, which makes these phones a nice option for those of you looking to buy a good phone for less.

Best Labor Day deals on headphones, earbuds, and AirPods
Headphone deals just in time for Labor Day are also starting to appear by now. AT&T's deals on headphones are currently tied to a purchase of a smartphone, but nevertheless, they're good offers if you're going to upgrade your phone, to grab a pair of earbuds to accompany it for cheap.

On the other hand, Best Buy has a couple of deals on older generations of Samsung earbuds on sale in time for Labor Day, as well as on the AirPods with charging case and the AirPods Pro.
Amazon has also launched some deals, and the retailer has great discounts on the AirPods Pro.

Labor Day sales on Bluetooth speakers
There are also some deals on popular Bluetooth speakers showing up just in time for Labor Day. These deals are primarily on Amazon, and currently Best Buy doesn't have any discounts, but we expect more deals to show up just in time for Labor Day.