Best Buy leaks EVO 4G price of $199?
This article contains unofficial information.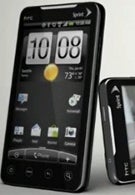 Darrin Morton from ozcarguide was visiting his local Best Buy store to see if he could get some info on the EVO 4G. Morton did indeed get some information. According to the Best Buy rep, the sexy, sizzling hot handset will be offered at a price of $199 at the big box retailer. And while there was no corresponding photo or a leaked screen shot to confirm this, the $199 price point would match the price for the current holder of the "Best Android Device" crown-the HTC Droid Incredible. Verizon also priced the Motorola DROID at a $199 price after a mail-in-rebate and a signed 2 year contract when it was launched last November. Best Buy prices phones with the rebate already factored into the price.
It is not too often in this life that we get a second chance and Sprint is indeed getting a second turn at the plate after failing miserably with the Palm Pre and Pixi handsets. The pin-dropping network needs to price the EVO 4G at the premium price that a phone of its caliber deserves. When launched, this model instantly becomes the "must-have" phone for the early adopters, so a certain number of sales will be easy pickings. What will make the phone the big hit that Sprint expects will be if it grabs the attention of the casual cellphone user for whom the technology doesn't really matter. It is this group that is very responsive to price and if Sprint prices this bunch out of the market, the carrier could face another Palm Pre type disappointment no matter how great the phone is.
HTC EVO 4G Specifications
|
Hands-on
HTC Droid Incredible Specifications
|
Review
source:
AndroidCommunity