Best Buy Mobile has the White stuff
3

Best Buy Mobile is taking pre-orders now for the white version of two Android handsets. A $50 deposit will reserve a copy of the white version of Verizon's Samsung Fascinate, or the white version of AT&T's Sony Ericsson Xperia X10. The former handset will go for $150 after a 2 year contract while the latter has a $100 price tag with a signed 2 year pact. Both phones are expected to be available on October 24th.
Also coming on the same date is the AT&T Dell Streak, which will cost you $300 with a 2 year contract. Sadly, Dell announced today that the tablet will no longer be scheduled for an OTA upgrade to Android 2.1 as the manufacturer wants to concentrate on getting Android 2.2 out by the end of the year. The AT&T HTC Surround will be available November 8 with a 2 year contract price of $200. This handset will be powered by the new Windows Phone 7 OS. Both the Dell Streak and the HTC Surround can be reserved with a $50 deposit.
Whether you are looking to be a show off by carrying around a white Android phone or a unique 5 inch tablet, or if you want to be the first on your block with a Windows Phone 7 handset, putting down a deposit with Best Buy Mobile will get the ball rolling. And as usual with the big box retailer, you pay the after rebate price for your phone or tablet.
Samsung Fascinate Specifications
|
Review
Sony Ericsson Xperia X10a Specifications
|
Review
HTC Surround Specifications
|
Hands-on
source:
AndroidCentral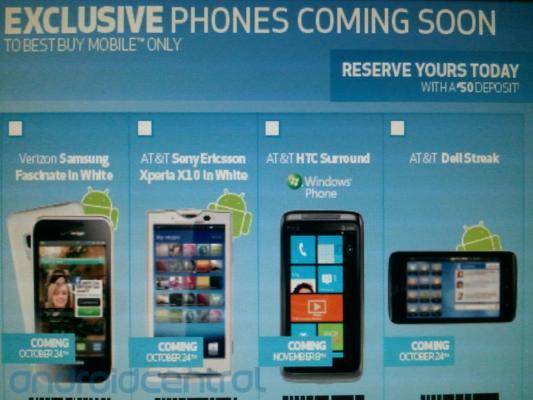 Recommended Stories